---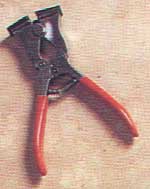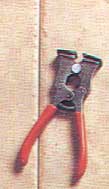 (Q)(Ref:TO1)6/6/99 Gay Milton from Devon, England is looking for a supplier, in the UK, for the tile nippers illustrated here. They are compound geared, have replaceable blades and come in two sizes. If any one knows of a supplier or shop where these are sold please contact us at Mosaic Matters and we will forward details on to Gay.

(A)The nippers that are pictured are by Starrett Tools in the U.S. (Refer to question #14). Their phone number is 1-978-249-3551. They can probably tell you a distributor on the east coast to save on S&H to England. If not, there is distributor in Seattle called the Bailey E F Company at 1-206-762-4840 and (if possible, ask for Kevin) that will sell them to you.
The prices and product numbers below are for Bailey EF Company.
For 5 1/2" nippers:
STR 235-5 1/2, Cut nippers w/adjustable jaws, 5 1, #STR 51066 Hardened steel: $89.96 US dollars STR 235X-5 1/2, Carbide tipped J, #STR 51070 Carbide tipped: $115.46 US dollars
For 7" nippers: (The only difference between the 5 1/2" and the 7" is the handle length, NOT the vertical or horizontal cutting depth.)
STR 235-7, cut nippers w/adjustable jaws, 7in, #STR 51067 Hardened steel: $110.40 US dollars
STR 235X-7, 7in w/carbide tipped jaws, #STR-51071, carbide tipped: $136.53
***Please BE AWARE that Starrett advertises these nippers for use in mosaic work, yet the instructions clearly say they are wire cutters and will not cut a flat surface. Only a maximum of 1/4" of the tile (the vertical depth) can be inserted to cut, even though the width can be adjusted much larger. *** If you do not like these nippers, you can return them BUT they will charge you a restocking fee of $17.00 for the 5 1/2" and at least $21.00 for the 7" size.'Arteest in Seattle'

(A) September 2011 - Pamela Phillips has found that Starrett is now a far-reaching company and has a factory in Jedburgh in the Scottish borders. Furthermore they have a website (and online store) at www.starrett.co.uk. To find the item just put nipper into the search field and it takes you straight there. It is called an adjustable jaw nipper and is sold primarily as a wire cutter that can also be used to cut tile, and it even mentions mosaic as a possible use. The price is £147.90 (£123.25 plus 20%VAT for anyone who can order through a business) with free shipping. You can pay by credit card or PayPal. This website seems to cover the whole European area so may be interesting for the colleagues from the Netherlands as well. The nipper arrived in a few days.