A Return to the Grand Tour: Micromosaic Jewels
from the Collection of Elizabeth Locke
April 27, 2019 – September 2, 2019
Virginia Museum of Fine Arts
200 N. Boulevard
Richmond, Virginia, 23220, USA
&&&&&&&&&&&&&&&&
PREVIOUS MOSAIC EXHIBITIONS
Journeying to Light:
the Mosaics of Elaine M. Goodwin
Wed 10 April to Sun 23 June 2019
Royal Albert Memorial Museum
& Art Gallery
Queen Street, Exeter EX4 3RX, England
Open Tues to Sun, 10am to 5pm.
Closed Bank Holidays


'My work is about light.
For all who look, at each and every moment, light is held, captured, and let go -
continually and continuously.
It is, for me, a sublime engagement.'

Celebrating 40 years of the mosaic art of Elaine M Goodwin,
this exhibition brings together over thirty luminous mosaics
to chart the experiences, places and beliefs that have inspired Elaine's work.

Photo: Detail from Impotentia (quadriptych) 2019 Elaine M Goodwin
Photo credit: Sonja van Driel


---

COUCHES GALLERY, FRANCE

TAKE FIVE
FROM SATURDAY 2 JUNE TO SATURDAY 20 OCTOBER 2018

This exhibition featured an improvised arrangement of new and recent works, both 2D and 3D,
by five very well-known international mosaic artists.
Lucio Orsoni, (Venice) Edda Mally (Austria) Annik Chaima (France)
Dugald McInnes (Scotland) and Elaine M Goodwin (England)
Works by five master-artists of mosaic from five different countries,
created a visually rhythmic and harmonic arrangement of colour, medium, shape and materials.
The result presented a discourse between light and shade,
the internal and the external, stillness and movement, depth and surface play.
Like a jazz quintet; individually each art work extolled a singular voice for mosaic
and together they sang of the wonders and magic within their medium.


Gallery address: 4 Place de L'Eglise, 71490 COUCHES, FRANCE
Telephone +33 (0) 986 423 860


For more information or to email visit:
http://www.elainemgoodwin.co.uk/index.php
---
2016 Spilimbergo Italy
XV International AIMC Congress:
May 18 - 21, 2016 Spilimbergo - Italy
The Mosaic in Contemporaneity
This very important AIMC event was held in 2016 in Spilimbergo,with the organizational collaboration of an exceptional institution: the Scuola Mosaicisti del Friuli.

for more information click here
---

Ravenna Mosaico 2015

Ravenna and the AIMC (International Association of
Contemporary Mosaicists) promoted the Fourth Edition of
the International Festival of Contemporary Mosaic,
Ravenna Mosaico.

The event took place from October 10 to November 8, 2015
and it hosted exhibitions, conferences, lectures, presentations of publications related to mosaic, and scientific studies related to the development of contemporary mosaic.


---
Glories in Gold & Glass

Mosaics & Ecclesiastical Art Study Day
St Paul's Cathedral Collections Department: Activities & Events
Friday, 13 November 2015
hosted by the Museum of London
on the 13th November 2015
The mosaics in St Paul's Cathedral are one of the most unexpected and intriguing aspects of any visit. The scale and ambition of the scheme is awe-inspriting in itself. This study day looked at the wider context of the St Paul's Cathedral mosaics. Inspired by the renaissance of mosaic work in the nineteenth century which brought the vibrant colour and imagery to the walls and ceilings of St Paul's, the speakers included:
Dr Heike Zech, Curator at the Victoria and Albert Museum: 'The Willaim Blake Richmond Mosaic Cycle at St Paul's'
Simon Carter, Head of Collections at St Paul's Cathedral: 'The Mosaics in a Collections Context'
Dr Ayla Lepine, Art and Architectural Historian: 'Stylistic Revivals in Nineteenth Century Church Interiors'
Lou Ashon, Conservator: 'The Conservation of the Fitzrovia Chapel mosaics'
Tessa Hunkin, Practising Mosaicist: 'Westminster Cathedral Mosaics Past and Present'
David Toothill, Artistic Director at Southbank Mosaics: 'Contemporary Mosaic Commissions in London'
A film premiere - The Making of the Queenhithe Mosaic
This Study was part of the St Paul's Mosaics Project
---
OTHER MOSAIC EXHIBITIONS

Ciel gallery and mosaic studio in South Charlotte,
North Carolina, USA
The gallery offers monthly juried shows, each involving 30-40 different artists. It features both local artists and artists from all over the world who use an array of media, including jewellery, pottery, metal sculptures, paintings and glass mosaics.
All four gallery partners are working artists, each with a different speciality. Pam Goode, Teresa Hollmeyer and Vick Hanson-Burkhart are mosaic artists. Tina Alberni is a mixed artist who specializes in painting. They all offer classes and workshops in their areas of expertise.
Ciel also offers visiting artist workshops, providing local artists with an opportunity to learn from well-known artists from around the country.

Ciel Gallery and Mosaic Studio is at 136 E. Park Ave. in Charlotte.
For information click www.cielcharlotte.com.
---
Chedworth Roman mosaics to go on display
One of the longest in-situ Roman mosaics in Britain is to go on display for the first time in 150 years at Chedworth Roman Villa, Gloucestershire.
BBC News Gloucestershire
27 December 2011
Archaeologists uncovered the mosaic and others as part of a £3m redevelopment. They said they had known for many years there were more than those already on display inside two Victorian-built timber sheds. The mosaics will go on show inside a new conservation shelter at the site, which is owned by the National Trust.
National Trust archaeologist Martin Papworth said the mosaics had been seen and noted during Victorian excavations. "Only two areas were put on display under the old shelters," he said. "However, when we did some work to check on their condition we were concerned that frost and weather were affecting them and it was agreed they could be better protected by building a new environmentally controlled shelter over that whole section of the villa and excavating them for display."

The mosaics include one of the longest in-situ corridor mosaics in the country, which is 35m (115ft) long. It will go on display under a special walkway allowing visitors to walk just above the Roman floor. One remaining section of the corridor mosaic will be excavated next summer.
Conservator Chris Cleere said: "The mosaics were wet when they were excavated and now they are safe inside the new building we will let them dry out and see what happens. Then we can assess what type of work we need to do over next summer for the long term conservation. In the short term we will clean the mosaics, stabilise them and prepare them for display to the first visitors."
The new conservation shelter, a redeveloped visitor facility and a new education centre will be officially opened on 4 March.

---
Mosaic artworks go on display in "Green Garden"
More than 125 mosaics can be found in the sunken garden on Loch Promenade, Douglas, Isle of Man
by Tessa Hawley
isleofman.com
August 2011
They are part of an initiative called "Garey Glass – Green Garden" which aims to encourage environmental responsibility. The sunken garden has a "recycle-reuse-reduce" theme and as well as the mosaics, which have been made using recycled material, features a pathway constructed from recycled bottles.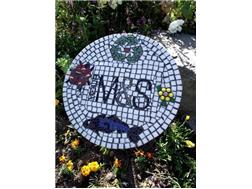 Community arts specialist Debra Tracey worked with local charities and voluntary groups to create the mosaics for the garden. She said: "Garey Glass has been a tremendous community effort involving people of all ages and abilities.
"I held a number of work sessions in the run up to the launch and it was wonderful to see whole families, from very young children to grandparents, getting involved with making the mosaics - every single piece of which has been used which makes the project truly inclusive.

"We've used as much recycled material as possible, right down to the jars and containers for the eco-art classes, and we found all kinds of creative ways to reuse plastic carrier bags - even for making the 'ribbon' cut by the deputy mayor at the opening."
Chris Pycroft, development manager for the Douglas Development Partnership said: "Garey Glass has brought added interest and a new sense of community to the sunken gardens which are magnificently maintained by the council's parks section.
"The mosaics will bring colour to the garden during the months when the flowers have died down while the LED lighting gives life to the space at night so this is very much a garden for all seasons and all hours."
The project has been funded by the environmental charity Groundwork which uses the profits of the Marks and Spencer carrier bag charge and Douglas Borough Council and the Douglas Development Partnership.
---
TE-21 EXHIBITING GROUP LAUNCHED
TE-21 (Tessellated Expression for the 21st century), a new exhibiting group, was launched in Chartres, France, on 25 October 2008 by four mosaic artists, each internationally recognised. They were Elaine M. Goodwin (England), Dugald MacInnes (Scotland), Lucio Orsoni (Italy) and Toyoharu Kii (Japan).
The launch took place under the aegis of the Association Les 3R, which organises the biennial Rencontres Internationales de la Mosaique in Chartres.
Lucio Orsoni of Orsoni Mosaics fame spoke animatedly of proposals for future exhibitions. Dates have yet to be arranged but watch this space!

To learn more about TE-21 see our News Item on the launch of the group.
Source: Solo Mosaico
---
THE GILBERT COLLECTION
AT THE VICTORIA & ALBERT MUSEUM
LONDON
This outstanding collection of decorative art is one of the most important bequests ever made to the British nation. It was the gift of Sir Arthur Gilbert, who was born in London and settled in California in 1949. The collection was originally displayed in Los Angeles but then found a home for some years in the palace of Somerset House, on the north bank of the Thames by Waterloo Bridge. This magnificent building used to be the home of the Inland Revenue, but happily the taxman made way, first for the Courtauld Collection, and then for this magnificent addition, Sir Arthur's collection of European silver, gold snuff boxes, furniture, clocks, miniatures - and Italian mosaics. These treasures are now to be seen at the V&A Museum.
The mosaics are of two kinds; Florentine "pietra dura" (opus sectile miniature pictures made of plain and polychrome marble and semi-precious stones) and micro-mosaics. These evolved in Rome in the late 18th century as souvenirs for rich tourists making the Grand Tour. The glass threads of which they are made are so small as to be barely visible as individual tesserae.

To see more about Sir Arthur Gilbert, his life and the collection go to our Gilbert Collection article on the feature pages.
---