Where can I get that tile from? Who sells that tool I want?
Hopefully we can answer these sort of questions for you. We are slowly building up a collection of contact details for suppliers of mosaic tiles and equipment.
So far we have details of suppliers in eleven countries from around the globe, with more being added as we get them. Some have links to other sites where items can be purchased online.
If you know of or can recommend a supplier or would like to have your company listed here please contact us.
Select a country from our list below to see a range of suppliers


Although based in Italy, Xinamarie.com can supply most places in the world with a good range of mosaic materials and tools. Prices and shipping costs are very competitive. For full details go to our Italian page and select the link for Xinamarie.com
Members of BAMM and SAMA will receive a 5% discount on materials purchased.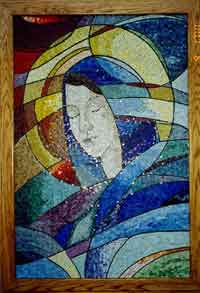 The picture on the left was sent to us by one of our readers. It is a stained glass mosaic measuring 4ft x 6ft and was made for a Catholic Church in the United States. It is a picture of the Virgin Mary. Stacy has been working in mosaics for the past 4 years, but has been a stained glass instructor for 5