Forget stone carpet mosaics........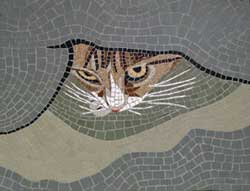 Forget stone carpet mosaics - the new Inspirations Exhibition, at the Salisbury and Wiltshire Museum, promises to turn the ancient art of mosaics on its head.
It's very contemporary, very organic and very, very modern and it's all the work of local mosaicist Robert Field.

Robert, a founding member of the British Association for Modern Mosaic, started off his career as an artist.
But a stint travelling the ancient Roman world, studying, snapping and recreating archaeological sites, soon had him turning his attentions to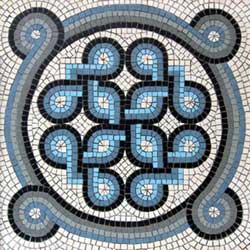 mosaics. Since then he has become a strong advocater of mosaic as an ideal medium to unleash creativity:
"Mosaic has opened up to me a new medium for artistic expression.
"It's a medium which effectively allows artists to form images in a way that expresses and enhances their own artistic vision."
For Robert mosaic has certainly proved to be all that... and his artistic visions are quite simply ntriguing.
Working completely in unglazed ceramic, Robert's contemporary interpretations and archaeological inspired works abound in flat surfaces but are themselves never flat.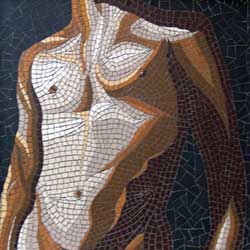 Playing on the surface of the medium the works are compelling:
"Although I deeply admire the results other artists achieve with light-reflecting smalti and marble in their work," he says "my own artistic needs are met for the moment by using, for the most part, unglazed ceramic.
"With these I can cover my full creative range be it abstract, naturalistic, geometric or replicas."
Only in 'Maseolithic Skeleton' has Robert been tempted to counteract the physical flatness and delve into the illusion of depth and perspective.
Overall Robert's works are a fascinating and diverse mix and the pieces pulled for the Inspirations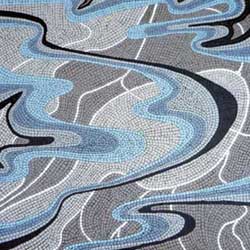 Exhibition reflect this. Modern abstracts rub shoulders with more naturalistic forms and even the artist's tabby cats make cameo appearances immortalised in mosaic.
For Assistant Curator, Jane Standen, the exhibition is a great compliment to the gallery's own mosaic:
"We jumped at the chance to host an exhibition of Bob's ingenious and beautiful mosaics, particularly with their historical and artistic links to our own mosaic from Downton, which is on display in the archaeology gallery".
Running from Saturday 3rd April through to Saturday 26th June 2004 the exhibition is accompanied by a series of talks.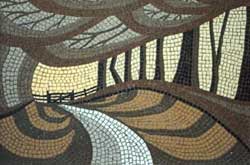 On Tuesday 13 April 2004, Steve Cosh, a renowned authority, will be giving a talk on Romano-British mosaics in the South-West whilst on Wednesday 2 June Robert Field will give a lecture on Modern Mosaic.
All in all the Inspirations Exhibition looks set to change attitudes. It's time, it seems, for mosaics to come out of the craft closet and into the world of fine art.
This article has been written and reproduced from the BBCi website with the kind permission of Sarah Jones. All pictures are from Robert Fields website with his permission.