The article below is from the San Francisco Chronicle and was wriiten by Angelica Pence. The Chronicle can be found at www.sfgate.com. Pictures are by Kim Komenich
Mosaic artist takes life one piece at a time
Dust from centuries-old stones seems to have settled for good inside the crevices of Pippa Murray's hands.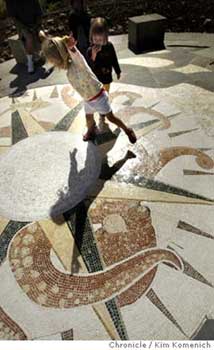 As a mosaic artist, she has chiseled, cut, polished and set countless tiles and stones, from Greece to San Francisco and back again. Most recently, the 29-year-old finished an 800-square-foot mosaic floor for the Bay Area Discovery Museum in Sausalito. "The Gathering Place," as it is aptly called, serves as an outdoor meeting and performance venue for the museum's new "Lookout Cove," a 2.5-acre exhibition and children's playground inspired by the nearby San Francisco Bay and Pacific Ocean. An ode to Bay Area ecology and history, the permanent installation depicts a sun, an octopus and other sea life. Two years in the making, the piece was put together from stones from across the globe: Carrara marble from Italy, blue stone (flagstone) from New Hampshire as well as local finds.
"When people think of mosaic, they usually think of mirrors and flower pots," Murray says. "I hope my work is much more substantive -- much more ancient, fundamentally. I'm working to create something that will last -- that will stand up to time."
To the uneducated eye, Murray's work looks as if it dates back some 4,000 years, to the beginnings of the art form. But take a closer look.
"I respect the history of the medium, but strive to make it relevant today," she says.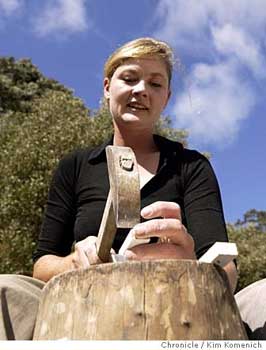 A simple drawing of a horse's head, which she'd made years ago in high school, got her a job in 1993 as a resident draftsman at a Minoan archeological site in Eastern Crete. She returned the following three summers and learned, perhaps more than anywhere, the history and art of the ancient Greeks. It was there, she says, where she first fell in love with the timeless art of mosaic.
In 1994, Murray helped restore a 15th century Byzantine olive press in Crete, where she designed a 3-by-10-meter pebble courtyard based on motifs from the Minoan period. The technique came about in the eighth century B.C., when artisans crafted pebble pavements, using colored stones to create patterns. But it was the Greeks, in the fourth century B.C., who raised the arranging of pebbles to an art form, creating precise geometric patterns and detailed scenes of people and animals.
Architect Victor Carrasco, an adjunct professor of architecture and an art history professor at the California College of the Arts in San Francisco where Murray is a student, commissioned her to create several period mosaics for his home in Bornos -- a village in the south of Spain. Once part of a medieval Islamic fortress, the Moorish building was added onto and remodeled several times throughout its lifetime -- including in the 18th century, when a mansion was added on for domestic use. Carassco, who bought the vast property in 1978 when it was in a state of disrepair (with no plumbing or sewage systems, and only a minimal electrical system), wanted Murray to create art that spoke to the history of the house -- not something that looked as if it had just been finished.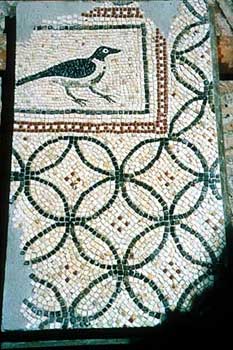 "I'm going about things in a very different way than most mosaic artists, " says Murray -- comparing the creative process to that of giving birth -- "drawing very much from ancient traditions."
Murray was born in Bloomington, Ind., and grew up in South Salem, N.Y. The daughter of an Irish mother and a father who is an English architectural and art historian, and professor at Columbia University, she studied visual arts and art history at Columbia, with an emphasis on sculpture and print making. Murray went on to earn a master's in classical archaeology from the University of Edinburgh in Scotland, where she studied Greco-Roman mosaic technique and design. It's of little surprise, then, that she speaks several languages, including Greek and a fair amount of French and Italian.
While most of her time is spent on mosaic, Murray also designs furniture. Once described as "Shaker meets Rococo," her style of furnishings melds animal- like qualities with subtle, contemporary lines. Her "Belly Table" is a wooden table that she tiled with a cream colored, almost alligator skinlike mosaic on its underside.
Why not tile the top? "That would've been too obvious," Murray says.
When she's not traveling for various commissions, Murray lives in Fairfax with her fiance, Zach Serber. She boards her horses -- Henry Higgins, a 20- year-old thoroughbred, and Freelander, a 6-year-old Irish sport horse, in nearby Nicasio, and teaches kids to ride when she's not competing in dressage, jumping and eventing.
Murray also is building a reputation for her mosaic work closer to home, designing residential pieces such as an outdoor spa and pool in Orinda, and a contemporary wall inside a Craftsman-style home in San Francisco.
It resembles an Amish quilt, says Victoria Sutton, of her 8-foot-long mosaic backsplash, which Murray designed partially out of broken pottery pieces provided by the homeowners. Nearly "every day," she says, "somebody walks in my kitchen and compliments the piece. It's so many pieces -- so intricate and organic."
--------------------------------------------------------------------------------
Pippa Murray
Age: 29
Profession: Mosaic artist and furniture designer
Home: Fairfax
Contact: (415) 637-6217; www.pippamurray.com
Showing: Murray's "The Gathering Place" mosaic can be seen at the Bay Area Discovery Museum, Fort Baker, 557 McReynolds Road, Sausalito. Call (415) 339-3900 or visit www.baykidsmuseum.org.
If you know of hot, new designers (think Generation X or Y), please let us know about them. By e-mail: apence@sfchronicle.com; by mail: Angélica Pence, The San Francisco Chronicle, Home&Garden, 901 Mission St., San Francisco, CA 94103; by fax: (415) 543-6956.