MOSAIC WITH A MESSAGE
Eco mosaic unveiling Oct 14 th 4-6pm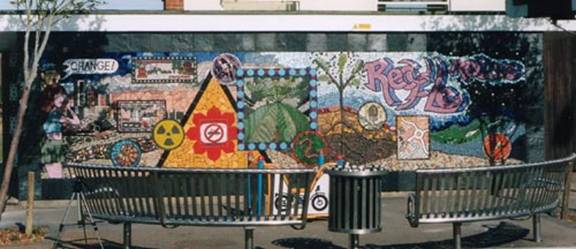 A sensational new large-scale piece of public art, to be unveiled at Harold Hill Library, Essex on October 14, conveys serious messages surrounding recycling issues.
Living Space Arts were the winners of a public vote - polling more votes than all other shortlisted artists combined - to secure the tender.
The unveiling ceremony on October 14 th is the end of months of hard work by the three artists that comprise Living Space Arts.
Harold Hill has the worst record in the region for recycling, and was therefore chosen to site the controversial artwork to bring about change.The final design was reached with full consultation with local school children and committees.
And the local community has already expressed delight at the new art installation. "It's amazing," said Carrie Richards, one of the three members of Living Space Arts. "As we were installing the mosaic, people were coming up to us saying how much they loved it."
"I overheard one man on his mobile phone arranging to meet a friend by the 'mad eco mosaic'. Then I knew we'd finally affected the area - our work had become a landmark."
Fellow mosaic artist Mark Wydler is also pleased with the work and the underlying message: "It's great to do something that appeals to all different age ranges. One old lady read us poetry as we worked. While the local kids helped us press images of corporate polluters into the grout. The kids loved it!"
Funded by DEFRA (Department of Environment, Farming and Rural Affairs) to promote an awareness and a celebration of recycling, the mosaic with a message uses a wealth of unexpected and imaginative materials: copper and stainless steel tubing, bicycle chains and the tops of sugar jars, as well as the more usual ceramic and glass tiles, marble and stone.
Covering the whole of the library wall (8x2.4m) the colourful mosaic relates to its audience on multiple levels through strong design and colour and incorporating different styles. The richness and variety of surface texture makes it a very rewarding tactile experience.
Styles adopted range from cartoonesque figures to naturalistic details and striking symbols. There is an eclectic range of influences, from Morrocan inspired patterned borders to New York style graffiti.
Living Space Arts hopes this mosaic will herald the future of Public Art in England , and art that is not afraid to be representational, that offers meaning and interest to its audience.
Design in detail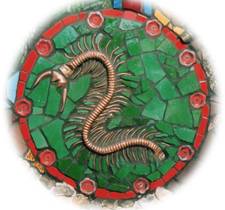 On the left of the image are two people looking out over an industrial landscape. The air is full of smoke and sulphur and there is a landfill site. The young woman is using an asthma inhaler.
Magnified within the scene is an amonite which is a reference to time and how in a relatively short period we have had such enormous impact on the planet.
'The environment is everywhere' was a slogan conceived by a local child. As was 'Start walking' to symbolise the needed reduction in car use.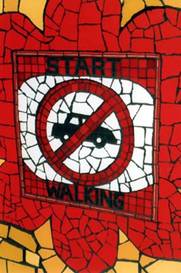 Magpies are birds associated with the collection of shiny, found objects. They are common in our country, while many other once-common birds have died out by up to 70-80 per cent.
The large fern is a lush, green, healthy plant dating back 300 million years.
Central to the piece is an Oak sapling. Oaks support over 300 species of insects. Britain has 4% of the native, ancient woodland left. Oak is now imported from Eastern Europe .
The map of the local area is depicted to show that small actions make a difference: think globally, act locally.
Living Space Arts Biography
Formed in 1998 Living Space Arts comprises Karen Wydler, Carrie Richards and Mark Wydler.
All three have degrees in Fine Art and started working together through a shared desire to produce vivid and inspired Public Art pieces that relate to their audience on multiple levels, through strong design and colour, different layers of meaning and representation, and the use of interesting, varied and unexpected materials.
LSA use an eclectic mix of styles and influences, drawing on the great traditions of art and mosaic of Europe , India and the Middle East - ranging from Pop Art to Islamic Art.
LSA's vision is to create striking and meaningful art works that, fully integrated with the architecture they inhabit, and alongside the creation of gardens, revitalise our public spaces.
This article was sent to us as a press release from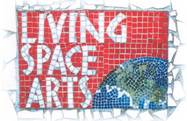 Living Space Arts
4 Fairlawn Grove
London W4 5EH
Karen Wydler - 07867 683169
Carrie Richards - 0208 995 0864
Mark Wydler - 0208 354 9300
Email: livingspace@ntlworld.com
www.livingspacearts.com