Mosaics made by young offenders displayed in Lambeth, London
bbc.co.uk
News
2 October 2011
Mosaics made by young offenders as part of their rehabilitation have gone on display at a workshop in south London.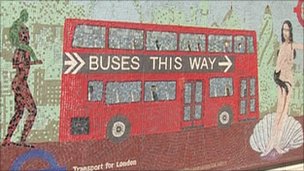 The artwork at Southbank Mosaics, which is used to enhance London communities, includes a piece under construction in response to the recent riots.
People leading the project in Lambeth say it gives offenders a chance to pay back the community and the mosaics improve the look of streets.


Southbank Mosaics is helping transform the area close to where poet and painter William Blake lived in Hercules Road, Lambeth, into "Blake's Lambeth". So far two mosaic translations of his work have been installed outside Waterloo station, twenty-four mosaics in Centaur Street and seven mosaics in Carlisle Lane.
The project, designed to create a deeper understanding of his work among locals and visitors, is backed by the Heritage Lottery Fund.