Historic mosaic uncovered at York's Guildhall
The Press
4 August 2010
by Mark Stead
PART of York's hidden heritage is being brought back on show at one of the city's ancient buildings.

The rediscovery of a Victorian mosaic underneath the carpet in the main reception area of City of York Council's current Guildhall headquarters has sparked an operation to put the historic find in full public view.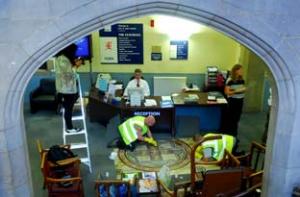 York Archaeological Trust and the YACRO supported housing scheme, which provides accommodation for former offenders, have now begun a three-week project to rip up the existing carpet tiles and clean the mosaic, which bears the city's coat of arms.
Once their work is done, visitors to the building will walk across the ancient artwork, which dates back to the late 1800s, with the council's Mansion House and Guildhall manager Richard Pollitt saying it will give the civic base "a bit of the wow factor".
"The mosaic would have been put here between 1889 and 1892, but about 20 years ago the decision was taken to cover it with carpet tiles," he said.
"But with the condition of these tiles now deteriorating, the decision has been taken to make the reception area brighter and more welcoming. The coat of arms is right in the middle of this area so it will really stand out, and although people will now be walking on it, it's very hard-wearing and it will not be damaged. It will really add to the surrounding at the Guildhall.

"The mosaic could have been designed by any number of people because of a lot of companies came to York to work during the Victorian period. It looks fantastic and it's great news that it's going to be revealed once again."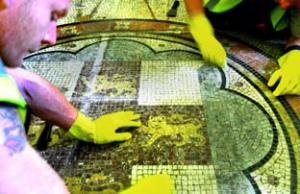 Between two and four YACRO volunteers will be helping with the project every day, with the scheme's director, Pat Smith, saying: "They take part in all sorts of work to help the rehabilitation process and they're very pleased to be involved with this."
Councillor James Alexander, leader of the council's Labour group, said: "I hope this is the first step to returning the Guildhall to its former glory and helping make the council more welcoming to the public who own it."