Woodchester Orpheus sold
based on an article by Gloucestershire.co.uk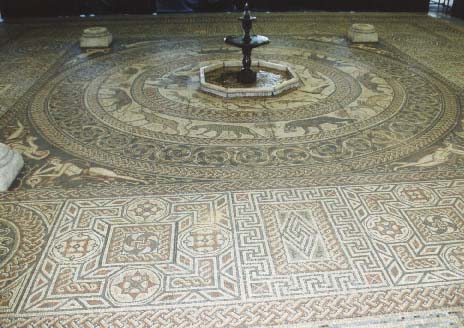 A £1 million reconstruction of one of the finest Roman mosaics found in Britain was auctioned by Chorley's on Thursday 24 June 2010 - and went for a song, a mere £75,000.

The Woodchester pavement reconstruction failed to bring the numbers of visitors hoped for to Prinknash Abbey in Gloucestershire, England, so bosses there decided to pull the plug on it.

The exhibit closed to the public on 10 January, but the abbey at Cranham, near Brockworth, agreed to store it for six months. It was hoped that would buy enough time for a new owner to be found.

Made by brothers Bob and John Woodward, it is a reconstruction of the Roman pavement in Woodchester, near Stroud, which depicts Orpheus charming the beasts with his lyre. The work is owned by entrepreneur Alec Lawless and was valued at £1 million by the British Museum in 1988.

The original, made in AD 325, is buried under Woodchester churchyard. It was re-discovered in 1693 and 100 years later local lawyer Samuel Lysons excavated it. When it was last uncovered in 1973, 140,000 visitors overwhelmed the village.

However, it was thought that it was unlikely to be seen again, so the Woodward brothers took 10 years to make the reconstruction for future generations to appreciate. They made each one of the 1.6 million tiles from a total of 12 tonnes of clay and spent countless hours researching Roman mosaics.

The Gloucestershire Great Orpheus Roman Pavement Trust was set up to promote it at the abbey but visitor numbers were not high enough for the abbey to continue the arrangement.
Rotating images of the mosaic can be seen on www.simonchorley.com