Mosaic is final piece in Whitchurch Arts Trail
by Gill Broad, Whitchurch Herald, England

A new mosaic to complete the Whitchurch Arts Trail was unveiled on Monday, 25 May 2009. Created by local artist Elizabeth Turner, the artwork is situated in the undercover walkway next to the town's Tesco supermarket. It is the final piece of the arts trail devised by Elizabeth and residents, and is featured in an accompanying leaflet.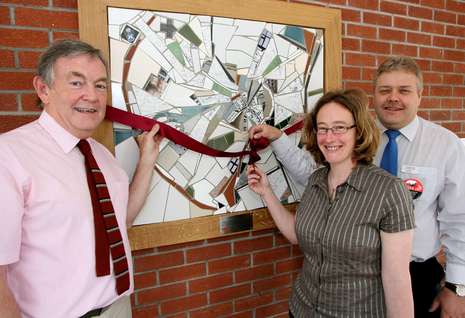 The trail incorporates
16 pieces of artwork across the town, and
is designed to be both fun and informative for youngsters and visitors. Hundreds of local schoolchildren and adults have been involved, and each creation celebrates a piece of the town's history and work.
The mosaic is number two in the trail, and has been funded by Better Welcome Whitchurch, using part of its grant from Advantage West Midlands.
The new mosaic features old field and street maps of the town and photographs of old buildings.
Whitchurch was among several Midland market towns which last year won funding of £25,000 from Advantage West Midlands to develop ideas to boost tourism and benefit local businesses.
Elizabeth said: "The mosaics have been a most rewarding project. People have enjoyed creating them and have felt it was very much a community project".
Chris Chambers, chairman of Better Welcome Whitchurch, said: "This is a fun experience which will lead visitors to different parts of the town where they see what Whitchurch has to offer in terms of heritage, history and shopping. This is what we are all about – helping to improve the visitor experience".
Gary Stephenson, manager of the Tesco store, said the mosaic gives a feel-good factor.
Information about the arts trail can be found in the Whitchurch Heritage Centre.