Tunisia conference highlights role of mosaics
TUNISIA ONLINE NEWS: May 2010
An international conference on "mosaic, local specificity of the city of El Jem" was held at El Jem, in the governorate of El Mahdia. Formerly Thysdrus, El Jem is home to the world's second largest Coliseum after Rome; it also boast an impressive mosaic museum and is currently a vibrant mosaic-making and restoration center.
This conference was part of the Fourth International Mosaic Festival of El Jem which was held from 14-16 May 2010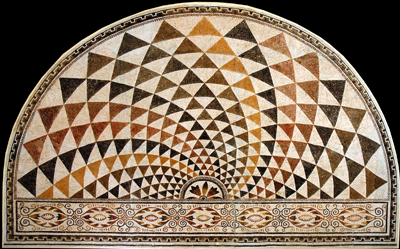 Announcing the launch of the conference, Mr. Ridha Ben Mosbah, Minister of Trade and Handicrafts, focused on the civilizational and archaeological heritage in which the region abounds.
He stressed the importance of the mosaic sector in the region, a sector which employs around 600 craftsmen and more than 30 micro-enterprises, generating annual revenues estimated at 2.8 million dinars.

The Minister referred to the positive results achieved in this sector in terms of training, investment, employment, exports and tourism.

Mr. Ben Mosbah also visited the various booths at the mosaic exhibition, held at the Roman Amphitheatre of El Jem, including the workshop production of a giant mural, involving a number of young mosaic artists as part of Tunisia's celebration of 2010 International Youth Year.
To see some of Tunisia's Roman mosaics click here