Person from Pontefract Wins Topps Tiles 2009-10
Achievement in Mosaic competition.
Beating off entries from over 250 budding artists countrywide, Diane Rawson from South Elmsall, Pontefract, is the nation's top amateur mosaic artist, having scooped first place in the 2009–10 Topps Tiles Awards for Achievement in Mosaic competition. As Britain's most talented mosaic newcomer, Diane triumphed by not only winning the ultimate £500 national prize, but her 'waterfall' mosaic artwork is soon to be exhibited at the Topps headquarters near Leicester.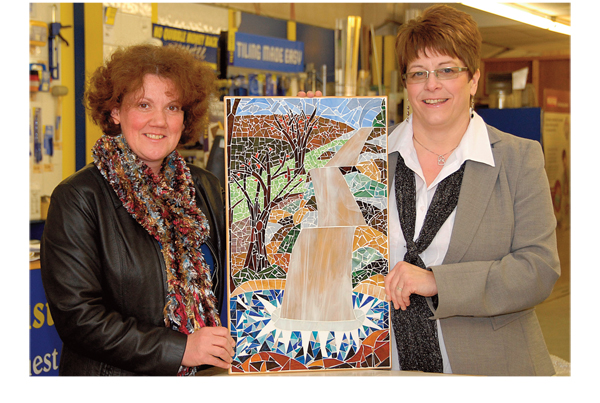 On the left, Jo Hepworth (teacher of Diane Rawson), on the right Diane Rawson

As a top community priority, Topps Tiles initiatives include sponsorship of mosaic as public art, Help for Heroes charity work, nationwide youth football support as well as primary school mosaic projects.
National judge David Tuhill M.A (RCA) said of Diane's work: "This is a complex piece and conveys an extraordinary sense of tranquillity. The way falling water flows through the textured landscape is beautifully executed. Diane and her teacher are to be congratulated".
Diane's work is an outstanding achievement, particularly for a novice who is still in the process of learning the craft. Jo Hepworth, mosaic artist and Diane's teacher, who also taught last year's national winner, confirmed, "It's wonderful when a large national company takes interest in education and sponsors a competition that encourages creativity and talent."
Making a positive contribution to local communities served by their stores, Topps Tiles supports and encourages mosaic art within community groups nationwide. The Topps Tiles Awards for Achievement in Mosaic competition provides beginners learning mosaic with the opportunity to showcase their achievements through adult education classes, community centres and workshop groups.