Mosaic Mural by Laleh Eskandari Unveiled in Tehran

Payvand Iran News, May 2010
Photos by Mohsen Rezaei, Mehr News Agency



A large mosaic mural by Laleh Eskandari was unveiled in Tehran on 29 April 2010. The mural, which was commissioned by the Tehran municipality, is located at the intersection of Hemmat and Sattari expressways in Tehran.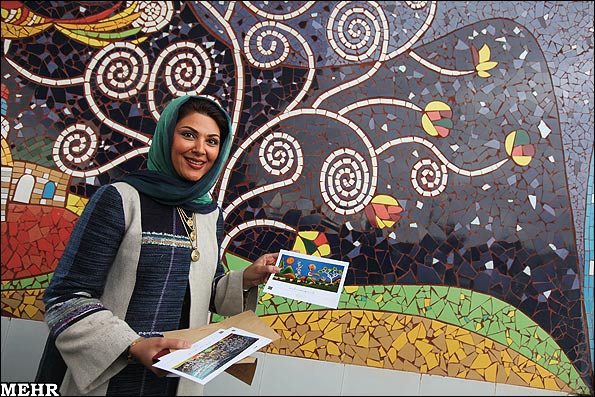 For more photos go to www.payvand.com

Laleh Eskandari's Biography

(source: www.laleheskandari.ir)

I was born in 1975 in east Iran. I went to university in 1995, and graduated from Graphic University in 1999. Back in the old days I remember my grandfather who was a carpet designer. He introduced me to the magical world of art, color and symbols. I was curious about art, and this made me think more seriously about it in future.
Photography
I have been interested in photography since my childhood. I took my first pictures at the age of thirteen. I continued photography after entrance to university in a professional way. I always have my camera with me in order to catch interesting events. My photo collection is mostly gained from my travels. My exhibition photos are from my travels all around the world.

Painting
I started painting under supervision of Mr. Hussein Maher in 1995. I have participated in several group exhibitions with my colleagues.
Mosaic
This technique has a very old background in Iran: using broken tiles and mosaics together and creating a unique performance. I've worked in this field since 1995. I have also held several courses as a teacher of mosaic work. I have had several personal exhibitions and a big commission for Tehran municipality.

Acting
The first time I played a role was in front of my uncle's camera. Second time was eighteen years later in a short documentary film. This film was about the first Iranian actress (Roohangiz Saminjad) and I played her role. I acted in my first professional film two years later - Born in September. So far I have played in more than 25 films and serials.