DALLAS-- In April, Sonia King was one of seven mosaic artists in the world to receive a 2006 Spectrum Award for a ceramic tile mosaic project she designed and crafted for Children's Medical Center Dallas. Spectrum Awards celebrate creativity and achievement in the use of ceramic tile in residential and commercial projects. One judge described King's mosaic walls as a "splendid and joyful project, a very uplifting design and use of color."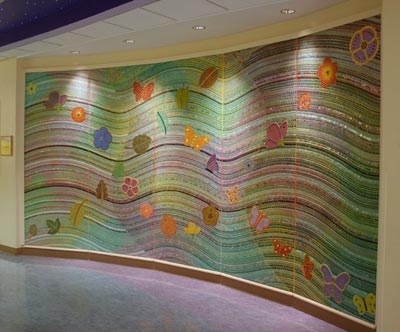 King designed the four cheery murals that grace the hallways at Children's to be visually stimulating as well as texturally engaging. She selected shiny, matte, iridescent, glazed, clear and rounded tiles to convey the personality of the designs. The themes are based on simple childhood icons -- balloons, numbers, shapes, nature -- but the overall effect is uplifting and engaging. The surface invites a child's touch, as well as a parent's, and is easy to clean and maintain.
"The goal for the walls was to provide a 'child-right' but not 'child-like' focal point that supports the healing process," says Sonia King. "One patient visited the mosaic on her floor every night before bed to touch her favorite tile butterfly. That's what makes this project so special to me."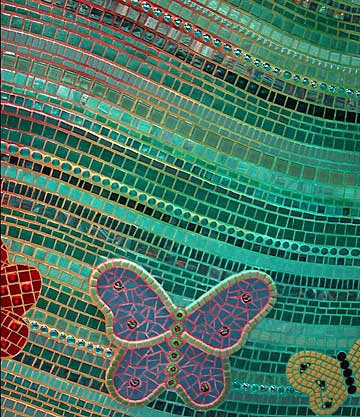 Sonia King is an award-winning mosaic artist whose work is exhibited nationally and internationally and is represented in private, public and corporate collections. She has been featured on HGTV's "Modern Masters" and in numerous books. Sonia is an instructor in mosaics at the Creative Arts Center of Dallas and teaches advanced classes around the world. She is the author of the bestselling book "Mosaic Techniques & Traditions" from Sterling Publishing.
Children's Medical Center Dallas is one of the largest pediatric providers in the nation and is ranked one of the top 25 hospitals pediatric hospitals by U.S. News & World Report. A private, not-for-profit institution affiliated with UT Southwestern Medical Center, Children's is the only academic healthcare facility in North Texas dedicated exclusively to the comprehensive care of children from birth to age 18. More information about Children's is available at www.childrens.com. News media may subscribe to receive pediatric health news via the Web site's Media section.
The 2006 Spectrum Awards are sponsored by Coverings and coordinated by its five sponsoring organizations including ASCER (Spain's Ceramic Tile Manufacturers Association), Assopiastrelle (Association of Italian Ceramic Tile and Refractories Manufacturers), CTDA (Ceramic Tile Distributors Association), NTCA (National Tile Contractors Association) and TCNA (Tile Council of North America).
Contact: Sonia King 1-214-824-5854 sonia@mosaicworks.com