Artists unveil mosaic mural
by Eric Lindbergh, 20 March 2009
Daily Sound, Santa Barbara, California, USA
Local artists and environmental leaders gathered to celebrate the installation of a mosaic mural at the South Coast Watershed Resource Center.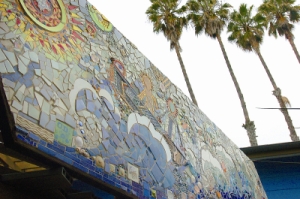 The 4-foot by 13-foot work of art began to come together nearly three years ago at Art From Scrap's annual assemblage show under the guidance and coordination of local mosaic artist Betsy Gallery's watchful eye.
Guest artists that contributed to the piece include film star Anne Francis and local teen volunteers Mayra Castro, Oscar Diaz, Israel Fierro, Miriam Meza and Brenda Rangel, along with other local artists and a few toddlers.
"The mural is a perfect fit for the Watershed Resource Center because it shows images inspired by traditional maritime cultures," Lindsay Johnson, manager of the center, said in a prepared statement. "It's a riotous, colorful celebration of the ocean, marine life and our human connection to the sea."
Mary Price, who drew the initial design, said the images on the mural were inspired by indigenous maritime cultures. She credited the work of Gallery, who spent the most time on the piece.
"The biggest inspiration for me in designing the mural was Betsy's mosaic work," she said in a news release. "I love her wonderful use of colors and materials, and her skill and ease with her medium."
The center is located at Arroyo Burro Beach.