2009 Update on the Tottenham Court Road Tube Paolozzi Mosaics
by Paul Bentley

A lot of building work is happening at this station just now, so we asked the authorities if the work would include keeping, cleaning and restoring the great Paolozzi mosaics there. They replied: "London Underground recognises the importance of the Paolozzi mosaics within Tottenham Court Road Underground station, and our architects, alongside the Tube's Art on the Underground programme, are working closely with the Paolozzi Foundation as we develop the station design to help preserve them.

"Wherever possible, the mosaics will be maintained throughout the station. Where it is essential that upgrade work is carried out, for example, on platform walls, any repairs to the mosaics will be carried out in consultation with the Paolozzi Foundation. An artist will be commissioned in due course, in consultation with the Foundation, to carry out these restoration works."
(Further information can be obtained from Tottenham Court Road Customer Services
email: helpdesk@crossrail.co.uk or call 0345 602 3813)
So while we are waiting to see how things turn out, here's an article originally written for Grout, BAMM's magazine, in 2002.
PAOLOZZI AT TOTTENHAM COURT ROAD
Eduardo Luigi Paolozzi is of course a Scot. He was born in 1924 in Leith, near Edinburgh, the only son of Italian peasants who owned an ice-cream shop in the town. You might think ice-cream would be one thing which had no influence on his art but you would be wrong – in the shop there was a wonderful freezer with two stainless steel blades…. His love affair with machinery had begun, though as a child he also drew pictures of film stars and street scenes. Armed with these drawings he got into the Edinburgh College of Art, aged nineteen. Then he went to St. Martin's School of Art in London and the Slade and in 1947, armed with £75 from his graduation show, moved to Paris.

There he met Giacometti, Tzara, Brancusi, Braque and Léger and was influenced by Surrealism, unsurprisingly. Two years later he was back, teaching textile design at the Central School. He has done a lot of teaching – for example he was Professor of Ceramics in Cologne and at the Royal College of Art (the latter for almost thirty years), and in Munich he was Professor of Sculpture. In 1986 he was made Her Majesty's Sculptor in Ordinary for Scotland; the knighthood came in 1989. He is member of the Royal Academy, and was asked to sculpt Isaac Newton for the British Library.

The range of his work is vast and includes collages, abstract sculpture, ceramics, textiles, silk screen printing, stained glass and paintings. Much of his work displays his passionate interest in science and technology.

The Tottenham Court Road underground mosaics were commissioned by London Regional Transport in 1979, because a member of the tube decoration team saw a photo of a 1976 Paolozzi painted mural in Berlin. That mural was big - 990 square metres. For the tube murals (995 sq.mts.) ceramic tile was chosen to begin with, later changed to mosaic because of its greater flexibility in creating intricate forms, and because it is more striking at close quarters. Ceramicists might disagree. The materials used were vitreous, smalti and piastrelle, irregularly shaped blocks made of the same material as smalti. The method was reverse, because the mosaics had to be as smooth as possible, given that passengers, sorry, customers would be brushing past them.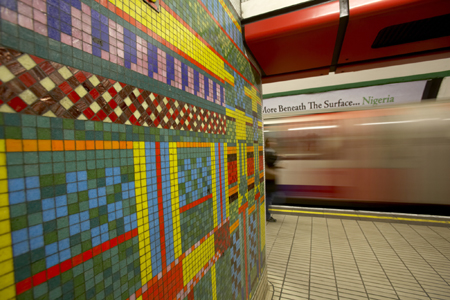 When working on the designs Paolozzi considered the public as one of the clients. What happens when the platforms are crowded? In the rush hour? How would people react to metaphors and images which relate to the life above ground, in the district around the station? Cameras, music shops, saxophones, electronics, the British Museum, Architectural Association students, even memories "of an all-night Turkish bath formerly in the Russell Hotel"? The official catalogue (see below) claims that this Turkish bath memory became mosaic butterflies scattered through the tunnels, though it seems more likely that these insects are in fact moths.

Paolozzi did masses of preliminary designs – he has never lacked energy – collage drawings, watercolours and experimental Xerox copies of these in various colours. The Tottenham Court Road designs are a summation of Paolozzi's lifelong interests. Forms which at first seem abstract become more specific on inspection – television images, computer games, car wheels, machinery. The exotic mixture of ingredients reflects Paolozzi's pleasure in the multi-cultural world of London. It's interesting to note that he felt that mosaics bordering a doorway or passage (where people pass swiftly through) should never be as complex or flamboyant as those filling a platform wall (where people stand still for minutes at a time).

The Central Line is red, so red was central to the design, with different colour ranges in the east-bound and west-bound tunnels. Black of course dominated the Northern Line designs: these had more subdued colour, harder and more geometrical variations on the basic vocabulary – it's a tough opus regulatum world. The Rotunda was more representational: a running commuter man, a fast-food chicken and hamburger, cogs, pistons, cow, voodoo masks. The last stage of the design was the Oxford Street entrance, which is an amalgam of all Paolozzi's imagery and techniques and acts as an overture to what lies below.

He used a model maker, Ray Watson, at the design stage, and three firms actually made the mosaics - Italmosaic of Spilimbergo (Central Line), Carter Contracting of London (Northern Line), and Art Pavements (Rotunda, Oxford Street entrance, "watch-strap" escalator mosaics).
When you go to see the mosaics you may find that the tunnels and passageways are so narrow you can't really get away sufficiently to see the mosaics properly. The walls opposite the platforms, which would have been ideal, were to have been mosaiced but London Transport decided it couldn't afford to lose the advertising. So Paolozzi used bold design and colour to arrest the attention at close quarters (as compared, say, to the lugubrious ceramics at Waterloo Station), plus a wide variety of textures and patterns, ranging from opus regulatum to opus palladianum (crazy paving).

At present the mosaics need cleaning and some restoration; BAMM is corresponding with the relevant authorities. The murals are a triumphantly successful celebration of London life and art and deserve to look at their best.
(Paul Bentley, 2002; largely based on Eduardo Paolozzi Underground, edited by Richard Cork, Royal Academy of Arts catalogue, Weidenfeld and Nicolson 1986. The BAMM Peter Fischer Library has a copy; it can be borrowed by contacting Chris Blanchett of Buckland Books.)
Sir Eduardo Luigi Paolozzi, KBE, FRA died on 22 April 2005.
Note - Flash photography is not allowed on the London Underground network.