Modern approaches to mosaic at Lake Oswego's Festival of the Arts
by Janet Goetze, Special to The Oregonian, USA
Modern mosaic art isn't just a kaleidoscope of broken crockery. It may be shimmering glass, gleaming metal, lustrous stone or a combination of materials and qualities in realistic or abstract styles.
The art's varieties will be highlighted in "Cutting Edges: Contemporary Mosaic Art," an exhibition opening Friday as the featured event at the annual Lake Oswego Festival of the Arts. National and international artists have sent 84 works for the exhibit, which members of the Society of American Mosaic Artists say is the largest ever arranged in the United States, according to Lynn Adamo, the exhibit's co-curator.
The 46-year-old festival is one of the Northwest's largest arts events, bringing as many as 25,000 visitors to Lake Oswego each year. The festival includes the Lake Oswego Visual Arts Chronicle, artistic renderings of local life; an open show of about 1,000 works by Northwest artists; music in a variety of styles; a juried crafts fair; and children's activities.
Guided tours and demonstrations by mosaicists will help festival-goers learn how pieces of stone, glass or ceramic are arranged to create fine art, said Adamo, a Hillsboro resident who is curating the exhibit with Kath Jones of Milwaukie.
Mosaic has gained new prominence in the past decade, in part through the educational efforts of professional societies in the United States and the United Kingdom, Dabb said. Mosaicists are exploring a variety of materials and styles, and some are creating sculpture rather than two-dimensional works for walls and floors.
One of those moving to three-dimensional work is Lynne Chinn of Plano, Texas, a painter and graphic designer who has been working in mosaic for about nine years. She started exploring sculptural forms because of the qualities she saw in glass tesserae or pieces.
"The glass reflects and refracts light, and it works beautifully around curves," Chinn said. "I wanted to add that shimmery quality to my work."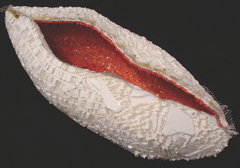 Chinn's "Winged Geode," shaped like a large seed pod, glows with golden and transparent tesserae placed closely together without the grout that some viewers expect in mosaic.
While Chinn's personal art is abstract or nature-inspired, she has a commission at Oregon's Mount Angel Abbey that is reminiscent of Byzantine Christian mosaics. And she has completed "The Annunciation" for an education building and is working on a series, "The Seven Sacraments." Because the designs require careful color blending of each tessera Chinn expects the work to continue for seven years.
Mark Brody of Portland also works with mosaic sculpture, including his "Big, Scary Fish," which will be in the Lake Oswego exhibit. While many mosaicists work without grout, Brody has won awards for his grouting.
"It changes the work a lot and it adds the element of cubism," Brody said. "I like that effect around all the individual pieces."
Jones said that when selecting the art for "Cutting Edges," she and Adamo wanted to show off the variety of artists' styles and techniques.
"This isn't your garden-pot variety of mosaics," Jones said.
More: Two venues for festival --
Details: 10 a.m.-9 p.m. Friday and Saturday; 10 a.m.-6 p.m. Sunday, Lakewood Center for the Arts, 368 S. State St. (Oregon 43), and George Rogers Park, State and Ladd streets; http://tinyurl.com/lofest
Janet Goetze is a Portland freelance writer: janetgoetze@comcast.net