Orsoni Prize 2007, International Award for Mosaic Fine Art

Orsoni Smalti Veneziani has been producing Venetian smalti and 24 k gold mosaic since 1888. The Orsoni Prize has been created to honor contemporary mosaic fine art. Maestro Lucio Orsoni, great grandson of Orsoni founder and current Honorary President of Angelo Orsoni and Pino Bissaza, the founder and President of Trend Group and premier art collector, will judge the competition. Maestro Orsoni and Dottore Bisazza will award the Prize to the individual who best exemplifies the use of Orsoni product in a mosaic representing excellent technique and unique artistic vision. Artists may apply in two categories, 2-dimensional and 3-dimensional through Juried Art Services (www.juriedartservices.com ) starting February 21, 2007. The application deadline is June 15, 2007. The winner will be announced, September 21, 2007. For further information, please contact JoAnn Locktov, joannlo@orsoni.com, telephone: #415.383.1399, or www.orsoni.com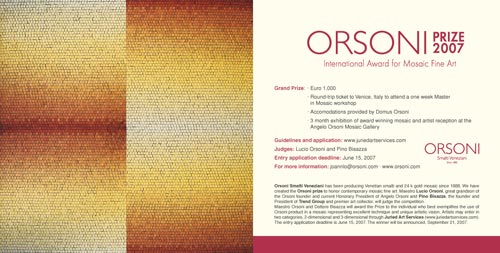 The winner of the Orsoni Prize will receive Euro 1,000; a round trip ticket to Venice, Italy to attend a one week Orsoni Master in Mosaic between Oct 2007-October 2008; six nights at Domus Orsoni, the bed & breakfast located at the Orsoni foundry in Venice. The winning mosaic will be exhibited at the mosaic gallery of Angelo Orsoni in Venice, Italy with a reception for the artist.

"It has been fascinating to me to see the international mosaic community flourish with unimaginable vitality and energy", contends Lucio Orsoni. "It has been my dream to acknowledge the work that is being done with a significant prize that will become part of the Orsoni legacy."

Master in Mosaic classes are taught at the Orsoni foundry in Venice, Italy. They are limited in size to six students, so that everyone learns at their own pace. Students have access to the entire library of 2,000 colors of Orsoni smalti and 32 shades of 24k gold mosaic. The class involves instruction in mosaic technique, theory and application as well as field trips to San Marco and the island of Torcello. This year two special thematic classes have been added in Portraiture and Micro-mosaics. For more information visit: www.orsoni.com or contact JoAnn Locktov, joannlo@orsoni.com, #415.383.1399.