Ocean Springs bridge panels dedicated
The four panels are a combination of artwork by local artists Patt Odom, Chris Stebly, Susie Ranager and Ching Walters, and were selected in a contest that best fit the mosaic's overall theme. Arranged by master artist Elizabeth Veglia, the 120-foot long mosaic depicts scenes of the natural beauty of Ocean Springs and the Mississippi Gulf Coast. It is also the longest mosaic in the state.

"I hope it's a destination gateway to our community to attract residents and visitors alike to these beautiful mosaics and the bridge," said Ocean Springs Mayor Connie Moran. Mississippi Department of Transportation Chairman and Commissioner Bill Minor said it is unreal how Veglia combined four different and distinct pieces of art into a mosaic.
"It gives people something to see and we want people to remember this when they visit," Minor said. "These panels represent many partnerships, just like how we got the bridges (Bay St. Louis and Biloxi Bay) built back by working together."
The entire process of combining every artist's distinct flair into the mosaic took one year.
.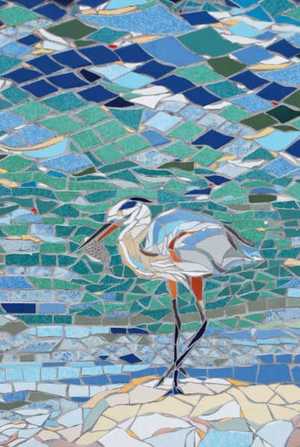 (Source - Sunherald.com)