Pioneering California artist Emile Norman dies
Source: San Francisco Chronicle
Kenneth Baker, Chronicle Art Critic
Saturday, September 26, 2009
Emile Norman, a pioneer not only in the art world but also in the gay community, and whose fanciful sculptures gave him an international reputation during a seven-decade career, died of natural causes in Monterey on Thursday. He was 91.
Mr. Norman's art entered private collections around the world, but probably his largest and most known works are the 1958 exterior relief sculpture and giant mosaic window of the California Masonic Temple, known to most people as the Masonic Auditorium, in San Francisco.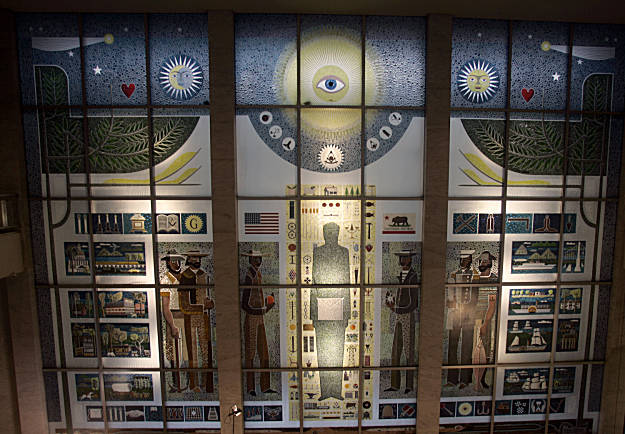 From the beginning of his life, Mr. Norman took the path less traveled - or in some cases, barely traveled at all.
Born in San Gabriel (Los Angeles County) in 1918, Mr. Norman defied the wishes of his family of walnut growers in his determination to become an artist. In the same spirit, he walked away from art study at a local college after his first taste of it. Yet, despite his lack of formal art training, he would thrive.
After dropping out of school, he moved to Los Angeles, where he began creating jewelry and department store window displays, which he continued after relocating to New York in 1943. During a trip to Europe in the late 1940s, Mr. Norman discovered new materials, particularly epoxy resins, in which he would cast his unique brand of sculptures, jewelry and mosaic components. In 1951, his first major show as a noncommercial artist was held at New York's Feingarten Gallery, where he began to make a name for himself with his marble sculptures of animals. But Mr. Norman's independent spirit was always a driving force. In 1961 he summoned up the courage to leave the New York art scene for good, having had several gallery shows there, and he opened a gallery of his own in Carmel.
With his life and business partner, Brooks Clement, Mr. Norman settled into a house in Big Sur that they built themselves. The home became a never-ending design project. At a time when being out was almost unheard of, Mr. Norman and Clement lived openly as gay men. The fact that they were a couple was also a rarity for the times.
An extended trip to Kenya in 1963 re-inspired Mr. Norman to work with animal imagery, which growing up on a walnut ranch had also given him a feeling for.
The high point of Mr. Norman's celebrity came in 2008, when PBS broadcast the hour long documentary "Emile Norman: By His Own Design," produced by Jill Eikenberry and Michael Tucker, and directed by Marin filmmaker Will Parrinello.
Mr. Norman is survived by three sisters and five nieces and nephews. Clement, his partner, died in 1973.
Donations in the artist's memory may be sent to the Emile Norman Charitable Trust, 45955 Pfeiffer Ridge Road, Big Sur, CA 93920, USA.