Primary Schools Mosaic Competition
Making a mosaic is a enjoyable skill and ticks many of the boxes on the national curriculum. Children love to see their drawings turned into permanent works of art; it motivates, builds confidence, encourages team work, helps with dexterity, brightens dull playgrounds, not to mention - it's fun!

BAMM (the British Association for Modern Mosaic) launched its first nationwide competition, called 'Mega Mosaic Makers' and sponsored by Topps Tiles, in 2008. It attracted over 100 entries from across the nation. Over £2,600 was distributed as prizes, in the form of mosaic materials and art books. The winner in 2008 was St. Bernadette primary school, London, working with Julie Norburn from Art4Space. They made a fabulous mosaic for the WEIR LINK CENTRE in London (see photo).

All the entries, further information, and details of all the prize winners can be seen on the MEGA MOSAIC MAKERS website; there is a link to it from the home page of the BAMM website.
BAMM are passionate about getting children on board at a young age and hope that many more schools will enter in 2009. Entry forms will be available from the BAMM website later this year, but we encourage all schools to plan now for entry.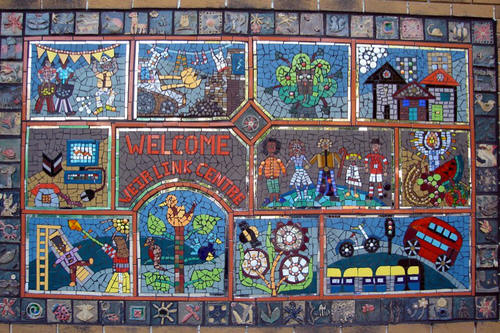 2008 First Prize Entry - £650
Mosaic for the Weir Link Centre by St Bernadette College, London,
working with Julie Norburn of Art4Space