Article appears in the Manchester Evening News dated 4/8/04. Written by James Ducker
Martians march on
THE Martian invasion of Manchester has spread to other cities around the world.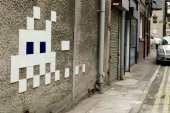 As revealed in the M.E.N. last week, mosaics of aliens from the classic arcade game Space Invaders are appearing on walls in the city centre.
There have been nearly 50 reported sightings in Manchester of the ceramics. Fans of the cult game believe they might have something to do with the recent release of a special 25th anniversary edition on the Sony Playstation 2 console.
More than 1,350 mosaics have been discovered in a total of 26 cities across the world - from Paris and Lyon in France to Perth and Melbourne in Australia. Paris has reported 519 ceramics, while 104 have been discovered in Los Angeles.
Grouted
The majority have appeared on walls, but others have been found on bridges and in one case a buoy in the Pacific Ocean.
Fans have branded the findings "very cool", but town hall chiefs in Manchester have vowed to punish those responsible. A city council spokesman said the appearance of the mosaics, which are grouted on to walls, amounted to "mindless vandalism".
He added: "We are still investigating. This would appear to be illegal advertising but, rather more seriously, an act of criminal damage. If we find this is the case, we will use all our powers to identify and prosecute the perpetrators."
A spokesman for Taito, the Japanese corporation which invented the game, said they did not condone the marking of private and public property, but that the sightings could have something to do with the re-release of the game recently to mark its 25th anniversary.