2010 - Call for Mosaic Artists
Mosaicists are invited to make a small mosaic for the new MosaicArt Charity Project London
The aim is to raise funds for the Esther Benjamins Trust (www.ebtrust.org.uk). EBT has a mosaic studio in Nepal, providing essential employment for young workers rescued as children by the Trust.
The project will also be an opportunity for mosaicists to exhibit their work permanently in London, because all the mosaics will be donated to the North West London Hospitals NHS Trust, starting with the Central Middlesex Hospital. This hospital will be delighted to receive the 20x20cm mosaics for their very bright "transport lounge", where patients usually have to wait long hours. The mosaics will be seen and enjoyed by many other people as there is a large corridor window alongside the transport lounge. It's well known that art in hospitals generally reduces anxiety and stress for patients, and indeed visitors.
The organizer of the project, Karla Duterloo, will also make a "Blurb for Good" book in which each mosaic will be featured, together with an artist's statement. This book will be for sale via the Blurb website (www.blurb.com/blurbforgood), and could be promoted on each artist's own website, and via various other channels.
The proceeds of the book will go to EBT, which gives the children involved a better life. Many of the children have learned mosaic skills from Martin Cheek to give them the opportunity to sell mosaics for a living via EBT.
All mosaic artists know how mosaic can bring happiness and fulfillment in their lives, and it's great for some of the children of the EBT community that they can achieve this as well.
Here is how it works:
• The deadline for participation (not sending the mosaic) will be 20 November 2010.
• Please send an email to confirm your participation as well as permission to publish your work in the "Blurb For Good" book, to karladuterloo@yahoo.com. Send it from your email address, so that Karla has your address for future correspondence. She will then provide you with the address you send your mosaic to.
• You do not have to send the mosaic yet, but only confirm your participation. (Karla needs to know in advance how many pieces she is going to receive.)
• The deadline for sending the mosaic to Karla will be the 1st March 2011. Please allow time for the mosaic to reach London, which can take a while, depending where you send it from.
• It would be appreciated if you donated a minimum of £10 directly to EBT at the time of sending the mosaic to Karla. Maybe you could ask some friends to do the same.
Here is what your mosaic should be like:
• Make your mosaic on 20 by 20 cm MDF wood, 1.8 cm thick.
• Seal the wood before you start your mosaic .
• Paint the sides.
• Drill a hole in the middle of the back through to the front at a point 6 cm height by 10cm width
• To help keep all the mosaics unified incorporate a circle (one or more, any size will do) in your non-figurative design, and use bright colours.
• Use any medium you want, but do not make the mosaic too heavy.
• Do not mosaic the sides.
• Grout the mosaic, ready to hang.
Here are the rules for hospital art.
• We have to keep to the health and safety rules for hospital art, so the piece needs to be easy to wipe clean, and not have sharp edges. The subject should be suitable for a hospital.
Artist's statement
• Write an artist's statement, if you wish, to go with the mosaic, to be published in the Blurb for Good Book. The statement should not exceed 300 words.

Package and posting
• Make sure you pack your mosaic properly (bubble wrap etc.).
• Send it registered post or recorded delivery, so it can be traced if lost.
• Send Karla an email as soon as you have sent the piece, so she knows it's on its way. karladuterloo@yahoo.com.
• Karla Duterloo will not be held responsible for any damage or loss of the mosaic.
Once the mosaic is in London Karla will take care of it and make sure the NWLH receive the pieces. She will then take the time to make the MosaicArt Fundraising Book on www.blurb.com/blurbforgood and will let you know when it will be ready for purchase.
Visit http://www.ebtrust.org.uk/what-you-can-do if you wish to donate money to the EBT.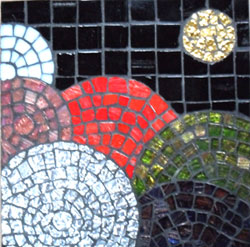 If you have any questions please feel free to sent Karla an email: karladuterloo@yahoo.com.
You can read all the information and updates about the MosaicArt fundraising for charity on BLOG on www.riotofcoloursmosaic.com
Thanks to Pam Givens (CMA) and Martin Cheek, Philip Holmes (EBT) and the NWLH Trust NHS Hospitals and Carina Moravec for their support in helping to make this project happen.
Have fun making your mosaic!
Karla Duterloo's website is www.riotofcoloursmosaic.com
Paul Bentley - Genesis