Mosaics go up at Kansas Humane Society building
BY JENNIFER TORLINE

In the warm morning sun, local artist Tina Murano and three workers installed 30 mosaic circles on the outside wall of the new Kansas Humane Society building in northeast Wichita. The circles are made from 60,000 green, yellow, blue and pink glass tiles, each less than an inch long, which shimmer in the light. For Murano, this is all part of the beauty of the art form.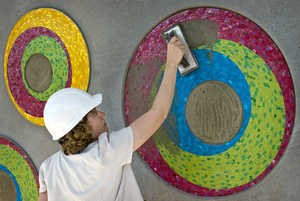 "By having buildings that are more attractive, I think it will invite more people to adopt more animals," said the artist, who is also the visual arts curriculum coach for Wichita public schools.
The mosaic project has been more than three years in the making and is part of the nearly complete Murfin Animal Care Campus near K-96 and Hillside. The campus includes two buildings: one for the Kansas Humane Society and one for the city of Wichita Animal Shelter.
To recognize the people and organizations who donated money toward the new campus, Murano will place stainless-steel plaques with donors' names inside each of the mosaic circles.
Murano created the mosaics in her Halstead studio over the past few months. "It's pretty labor-intensive," she said. "But I enjoy all the steps of it."
As Murano's son, Nate, and her father, Dale Vice, worked on installing the mosaics, Murano grouted the largest of the circles, nearly 39 inches across. The smallest is 15 inches across.
Nearby, Zarah Daniels, 17, used a putty adhesive to fix several out-of-place tiles.
"I like seeing it all come together," she said. "It's more interactive than sitting, placing tiles."
Murano has helped with other local projects, including Riverside park improvements and large-scale mosaics at three new Wichita fire stations this year.
In a few weeks, she will work on a set of rectangular mosaics for the animal shelter. The mosaic walls will be part of a plaza between the two buildings.
"One of the things we really like about Tina is that she really helped us convey a sense of fun and openness within the building," said Kim Janzen, president and chief executive of the Kansas Humane Society.
Source: The Wichita Eagle, Kansas