Hitler's Gold Dazzles in New Jersey Cancer Center
Interview by Zinta Lundborg

Bloomberg.com
2 April 2010 -- If things had turned out better for Albert Speer, Hitler's adored, evil architect, Nuremberg would have an oversize culture palace topped off by a dome covered in glittering golden tiles. Unlike the Zeppelin Stadium, where millions rallied, it was never built, though Speer got around to ordering up heaps of little tiles (gold tesserae) before he was diverted by the war he organized in his other job of minister of armaments.
The tiles survived in the storage rooms of the architectural glass and mosaic firm Franz Mayer of Munich. And recently, in a satisfying and also astonishing twist of fate, Speer's tiles became part of a radiant mosaic created by artist Michele Oka Doner for a high-tech cancer center in Newark, New Jersey.
"Healing Plants" represents a garden of life that offers refuge for patients, families and staff.


We spoke in her SoHo studio.

Lundborg: When did you first hear of the Nazi hoard?
Oka Doner: For many years Gabriel Mayer has been stopping here at the loft to tell me about his projects. When I showed him my drawing of healing plants, I was thinking of a Byzantine herbarium, green plants against a heavenly gold background. He asked me what kind of gold I would like.
Lundborg: And what kind of gold did he offer you?
Oka Doner: Gold made in Italy, France, Germany, rose gold, yellow gold. And then he said, "We have this Hitler gold."
Lundborg: That's what he called it?
Oka Doner: Yes. He began to shift his feet, moving his whole body rhythmically, and he finally said, "My grandfather did the mosaic tile for Speer. It was supposed to go for the great temple of the Third Reich in Nuremberg. I'm so ashamed." He looked down. This gold had been there as a weight on the family and they hadn't known what to do with it.
Lundborg: What does it look like?
Oka Doner: Glass mosaics backed with real gold.
Lundborg: What was your response?
Oka Doner: I thought this would be a good use for the gold, to take something conceived during a period of ill-intention and terrible negative energy, and transform it for something positive, for healing. I was fascinated that the gold had been there since the 1940s and that he wanted to make it available for this project.
Lundborg: How did you first conceive of the wall for the University of Medicine and Dentistry of New Jersey?
Oka Doner: My first thoughts on the art project for the cancer center had to do with radiant energy and radiation. In a book about Native American herbology, I found chaga, a fungus that grows on birch trees and is used to treat cancer. That's when I began to evolve the idea of a circle of healing plants.
Lundborg: What are the other plants?
Oka Doner: Aloe, called the medicine plant, used for skin regeneration. Next is the angelica, which gets rid of toxins. It looks like fireworks exploding with properties of healing. Saw palmetto is a restorative and encourages weight gain, while the Dutchman's pipe is a stimulant and an anti- inflammatory.
Lundborg: What does the lone chemical symbol stand for?
Oka Doner: When I met with the doctors, they wanted something representing their scientific language, so I added a cytotoxic molecule.
Lundborg: For a long time, hospitals were almost aggressively ugly, though that's changing now. How does art help in healing?
Oka Doner: Imparting positive energy is physical: It's alive, a vibration, a spark. Ugly buildings make people feel bad. Beauty has power and in the face of beauty, you get lifted out of yourself.
Lundborg: Your project went full circle: "Healing Plants" was constructed in the same factory that created the original tiles?
Oka Doner: Yes, after I sent the drawing, it took the better part of a year for them to create the finished 23 foot by 15 foot piece.
What's amazing is that when you walk into the workshop, there are people still engaged in a craft that's 4,000 years old. I wonder if we'll still have that in 50 years.
(Zinta Lundborg is a writer for Bloomberg News. The opinions expressed are her own. This interview was adapted from a longer conversation.)
To contact the reporter on this story: Zinta Lundborg at zlundborg@bloomberg.net.
See also our Mosaic Matters Feature Item "Franz Mayer of Munich"
********
And on 10 July 2010 the Paul Fraser Collectibles website had news of a less innocent mosaic...
Solid gold Third Reich mosaic appears in Florida auction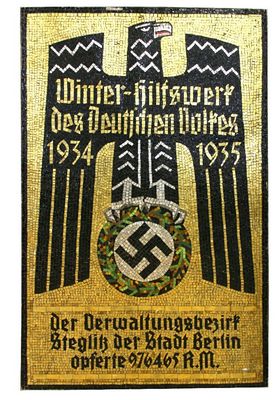 From 1935, this mosaic from the Nazi's Winter Help Work Program weighs over 50 pounds
Affiliated Auctions' Florida Summer Firearm & Militaria sale last weekend (Saturday, July 10) was led by an impressive piece of Third Reich memorabilia: a solid gold official mosaic made for the grand opening of the Nazis' Winter Help Work Program.
The mosaic is comprised of 20,000 individual gold-coloured and other-coloured tiny tiles, bringing the piece's overall weight to well in excess of 50 pounds. The mosaic is signed by the Berlin-Treptow firm, August Wagner.
Measuring approximately 4 x 5 feet in size, the mosaic depicts the Winter Help Eagle in full detail with a Swastika depicted in green and tan leaves. This ostentatious and unsettling Nazi artefact realised a final price of $5,400 in Affiliated Auctions' sale.