Peggy Guggenheim Immortalized in Orsoni Mosaic to Commemorate 60th Anniversary of the Collection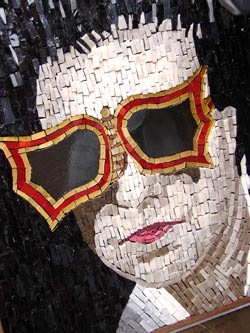 Venice, Italy….Joining the ranks of the most prominent artists of the 20th Century, the Angelo Orsoni mosaic atelier has commemorated Peggy Guggenheim in a portrait created in the glass enamels and 24 k gold tesserae, hand crafted at the 19th century Venetian furnace. The mosaic, by Orsoni maestra Antonella Gallenda, will be presented to the museum on August 26 at the Danilo Rea/Umbria jazz concert, performed in celebration of Guggenheim's birthday. The concert is part of a series of events commemorating the 60th anniversary of the Peggy Guggenheim Collection.
Inspired by a photograph of Guggenheim wearing her signature Surrealist sunglasses made for her by Edward Melcarth, the portrait is done in the genre of "Modernism." Lucio Orsoni, the world-renowned mosaic artist and great grandson of Orsoni founder Angelo Orsoni, originated this technique specifically to interpret mid-century monochrome photography into mosaic portraiture. By placing the tesserae vertically, the artist intensifies the essential flatness and limited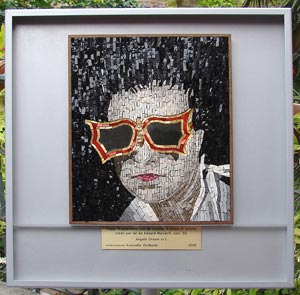 color palette of the image.
Speaking from personal memory, Orsoni reflects, "I had the chance to meet Peggy Guggenheim when I was 16. I still remember when she passed on the canals on board a gondola with her beloved dogs. It's now with great pleasure that we present her portrait to the Guggenheim Collection, realized in the atelier founded by my great grandfather."
For more information about the Angelo Orsoni foundry, Domus Orsoni or the Master in Mosaic educational classes please contact in the USA, JoAnn Locktov, joannlo@orsoni.com, tel. #415.383.1399. In Venice, Liana Melchior +39 041 2440002, info@orsoni.com, www.orsoni.com