Mosaics found in Turkey lead to unearthing of ancient Roman city
Monday, December 27, 2010
KAHRAMANMARAS - Anatolia News Agency

The ancient city of Germenicia, which has been underground for 1,500 years, is being unearthed thanks to mosaics found during an illegal excavation in 2007 in south-east Turkey. Excavations are ongoing in the area, with authorities aiming to completely reveal the mosaics and the city, and then turn the site into an open-air museum.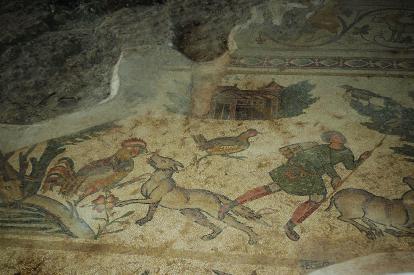 Mosaics found during an illegal excavation in the basement of a house in the province of Kahramanmaras have led to the unearthing of an ancient city called Germenicia, which remained underground for 1,500 years. The mosaics, found in the Dulkadirogullari neighborhood, are expected to shed light on the history of the city.

Preliminary examinations showed that the mosaics were high-quality contemporaries of those unearthed in the ancient cities of Zeugma and Yamaçevler. The first steps have been taken to completely unearth Germenicia and its mosaics, with houses in the area expropriated by the Culture Ministry.

Speaking to Anatolia News Agency, Provincial Culture and Tourism Director Seydi Küçükdagli said the location of Germenicia was shown as Kahramanmaras on ancient maps, but archaeologists had been unable to determine its exact location because no architectural remnants of the city had been found.
He said, "Although the city was very important and magnificent – it even printed its own money at the time – it remained underground as a result of invasions and fires," he said.
The excavations were initiated under the coordination of the Kahramanmaras Museum Directorate at the end of November 2010. "After the first mosaic was found we examined the region and registered 19 parcels of land that could be important. We have expropriated five parcels and excavations have started on three. The houses where the mosaics were found have been torn down and a protective cover installed at the site."
He said seven archaeologists were participating in the excavation. "The mosaics have changed the future of the buried city. They are on the ground level of two-story magnificent villas built in the late-Roman period around 400 A.D. and will give us clues about the daily social life at the time."
Küçükdagli said the Culture Ministry also decided to carry out academic excavations in the region, adding that they sent invitations to 44 universities with archaeology departments.
He said the fifth International Mosaics Corpus would be held in June in Kahramanmaras and that the symposium would provide information about the history of the mosaics.
Archaeologists believe there are more remnants of the ancient city of Germenicia, which is named after the father of Roman Emperor Caligula, in the Namik Kemal neighborhood in the foothills of Ahir Mountain. They believe the city was buried by landslides and avalanches caused by a severe earthquake.
Research has shown the region likely featured as many as 100 villas with 15-20 rooms each. Excavation work on the newly unearthed mosaics so far has suggested they were likely floor decorations in one of those villas.