ADANA - Doğan News Agency
Turkish Daily News
26 February 2013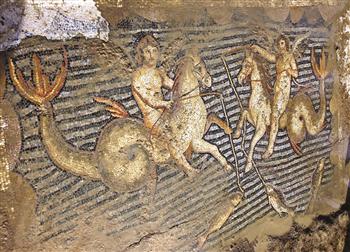 A mosaic featuring an Eros figure fishing on horse has been found in the southern province of Adana's Yumurtalık district. The half fish-half horse Eros, which is called Hippocampus in Greek mythology, is claimed to be the one and only such mosaic in the world.

Made up of marble, glass and stone, the mosaic is estimated to date back to the late Roman or early Byzantine era.

The Adana Museum Directorate has initiated archaeological excavations in the region where the mosaic was discovered. One week ago the existence of a villa was determined in the area. The villa was thought to be owned by a top state official and the Eros mosaic was revealed when a part of the villa was excavated.

Yumurtalık Deputy Mayor Erdol Erden said the Eros mosaic was found during a one-week excavation. "We found young and adult Eros figures in the villa. Experts say that these figures were the first and only such figures in the world," Erden said.
DHA photo