New Malden - Corpus Christi School's 40th Anniversary Mosaic
by Paul Bentley and Karen Parry

Corpus Christi Catholic Primary was founded in 1969 by the local parish priest, Mgr. Hugh Hunt, and forty years later the school wanted to mark the anniversary appropriately. They decided to cheer up the exterior entrance wall with a mosaic mural. It so happened that a member of staff, visiting a charity exhibition, spotted several mosaics by a local artist, Karen Parry of Mosaic Workshop, Kingston on Thames, and Karen got the job. (Kingston used to be famous as an ancient market town, complete with the Saxon kings' coronation stone, but nowadays it's best known for the exciting new riverside Rose Theatre.)

Karen Parry has a studio in Kingston (see www.mosaicworkshopkingston.co.uk), and lots of experience with large community projects and private commissions. She also teaches mosaic, and works with people with disabilities.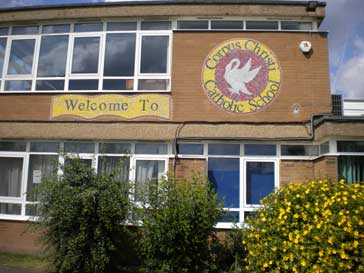 The school wanted the design to say "Welcome To Corpus Christi Catholic School", with their emblem, an ancient pelican bird, in the middle. And of course they wanted the colours to be their school colours, yellow and burgundy.

Karen drew out the design and coloured it in, so that it was easier for the children to follow. Everyone in the entire school, 420 pupils and all the staff, and even some parent helpers worked on the mosaic. They used mirror tiles to highlight the bird's wings, etc., and lots of iridescent tiles to really make it shine. With the plain colours they used lots of different tones of each colour, to make them stand out.


Karen did some 70 workshops with the children, explaining about materials that you can use (in this case vitreous and mirror tiles on mesh), and how you design a mosaic, how to shape tesserae with tile nippers, and how you install the finished mosaic onto a wall. Actually making the mosaic took two weeks – the result is simple but remarkably effective.
Karen Parry's next project is a picture of "King John" for Egham Council, Surrey.