Roman mosaic installed in new visual arts building

BBC News Essex
3 March 2011
The installation of the mosaic into a recess in the building floor will take three-and-a-half weeks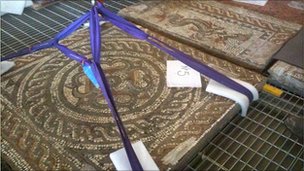 The Berryfield mosaic which was first unearthed in 1923 was removed from its home in Colchester Castle in September 2010 for renovation. Conservationists had to remove the 4.2m sq mosaic in nine sections in order for it to fit through the castle door.
The mosaic will form part of the floor of the new firstsite building, where it will be covered by toughened glass.
Buckinghamshire-based Cliveden Conservation was commissioned by firstsite in partnership with Colchester and Ipswich museum service to restore and clean the mosaic.
The work also involved replacing the backing with a modern lightweight solution. A £50,000 grant from the Heritage Lottery Fund made the work possible.
"By returning the mosaic to its original location, within the wonderful surroundings of the firstsite building, more people will have the chance to enjoy this important local heritage treasure - both now and for generations to come," said Robyn Llewellyn, head of Heritage Lottery Fund for the East of England.
The mosaic will be the only permanent display in the new firstsite building which is scheduled to open later in 2011.