CALEY'S CEILIDH
Fans of "Whisky Galore" will not need to be told that a "Ceilidh" (pronounced caley) is Gaelic for a visit or party, and one took place in London at Westminster Cathedral on the Sunday before St. Patrick's Day, 1999, to celebrate the installation of Trevor Caley's panel of the great saint, the first mosaic in the cathedral for over thirty years.
Present were a Gaelic-speaking bishop and two hundred Irish, and one and all applauded the highly successful work, a blend of Byzantine and Celtic in style, using ceramic, smalti and vitreous.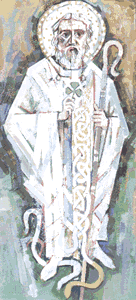 The illustration shows the design; the colours deliberately echo the colours of the marbles in the Chapel of St. Patrick where the panel is sited. Let's hope there's more where that came from - the Scots finished all the mosaics of their St. Andrew chapel back in 1915...
Come on, you Irish, Cà bheil sibh?