Mosaic artist donates mural, Calusa Nature Center benefits
Fort Myers, USA, September 2011
Artist Eve Lynch of Kraken Mosaics recently completed the installation of a large mosaic mural to support the Calusa Nature Center & Planetarium, a non-profit organisation. The public art installation, dubbed The Butterfly Project, features a 3-foot-long glass mosaic alligator and over 150 unique mosaic butterflies donated by 90 artists. The collaborative project, organized by Lynch in July of 2011, includes artwork from Russia, Cyprus, the Netherlands and Australia, among other places.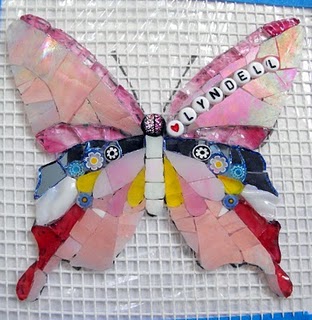 Lynch believes in the transformative power of art. The mural was originally created to re-energize the outdoor space under the nature center's museum but the project quickly became a vehicle to support the center's programs and revitalize the facility. "I wanted to add public art to the list of attractions that the Calusa Nature Center offers the community," she said, "but once I started putting the butterflies onto the wall, I realized that visitors were interested in becoming part of the project. That's when I partnered with the Calusa Nature Center and created the Buy-a-Butterfly program."
Through the Buy-a-Butterfly Program, visitors can purchase a commemorative mosaic butterfly in honor of a loved one for $100. Artist Eve Lynch then hand cuts the glass and creates the mosaic that ultimately ends up on the wall as a permanent part of the art installation. 50% of the proceeds are donated back to the Calusa Nature Center to help the non-profit continue to provide programming to the community.
Volunteer Mariah Brooks, who purchased the program's first commemorative butterfly, did so to memorialize her friend that had recently passed away from cancer. "I had wanted to do something for her but nothing felt right until I heard about the butterflies", she said. "This way she'll be around all the animals at Calusa Nature Center."
For more information on the Buy-a-Butterfly program or to purchase a butterfly, please visit The Butterfly Project website, http://butterfly-project.blogspot.com/p/buy-butterfly.html
You can also call or visit the Calusa Nature Center at 3450 Ortiz Ave., Fort Myers, FL 33905 | (239) 275-3435 or contact artist Eve Lynch at krakenmosaics@gmail.com
About the Artist
Fort Myers-based artist Eve Lynch works in many mediums but is currently focusing on glass mosaic. Her work has been featured in exhibits throughout Southwest Florida and in California and the United Kingdom. The Butterfly Project is her second donated art installation in Fort Myers. Her first, The Messina Mural Project, is a permanent outdoor art gallery at the J.H. Messina Children's Center on Fowler Street in Fort Myers. You can purchase work directly from the artist at http://krakenmosaics.com