Threatened mosaics could be reburied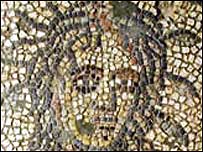 One of the world's most important archaeological sites could be re-buried under tons of dirt if the funds are not found to save it.
Backers of Brading Roman Villa, on the Isle of Wight, need to raise more than £500,000 before Lottery chiefs will hand over a £2m grant.
The money is needed to replace a 100-year-old metal roof covering the site's 4th Century mosaics.
If the money cannot be found, the mosaics will have to be reburied for their protection.
So far fundraisers have put together less than half the amount required.
'No other option'
A spokesman for Oglander Roman Trust, which sees 26,000 people visit the site each year, said: "If we fail in our task the mosaics must be covered with earth and the site and its Roman scenes will be removed from public view.
"We are advised by our conservation specialists that the need for long term preservation leaves our community with no other option."
The site has been listed by the World Monument Fund as one of the world's 100 most endangered sites.
Its metal cover building is rusting and has reached the end of its life.
Structural engineers say its safety will soon be compromised.
Meanwhile, flood waters have already inflicted serious damage to the villa's mosaics.
The villa and its mosaics were rediscovered by Captain John Thorp, a former soldier in the British Army in India, in 1880.
This item appeared on the BBC's news website www.bbc.co.uk/news 17/3/03
---
The Trustees of Brading Roman Villa need to raise £500,000 in matching funds in order to secure a lottery grant to help preserve treasures that the World Monument Fund have called"One of the World's Most Endangered Sites". It is a daunting task for anyone in the UK let alone the small community on the Isle of Wight. Can you help?
Visit the Brading site at http://www.bradingromanvilla.org.uk/