St Andrew mosaic "a world symbol of looted heritage"
Cyprus Mail
April 16th, 2015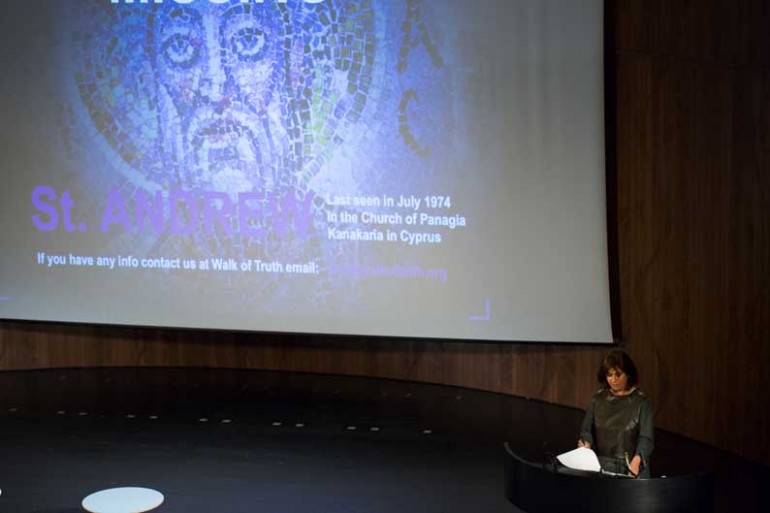 WALK of Truth, a non-governmental organisation with the mission of combating stolen art trafficking, has trademarked the mosaic of the Apostle Andrew, from the occupied Kanakaria church, as a worldwide symbol for every stolen cultural heritage monument.
At a conference held this week at London's Victoria and Albert Museum, Walk of Truth disseminated a poster and leaflets depicting the mosaic in an effort to showcase the looting of Cyprus' cultural heritage.
Participants were also informed of the recent destruction of cultural heritage in Mosul, Nimrud, Charta and Nineveh in Iraq, but also in the cities of Syria, Libya, Mali, Yemen and Nigeria, and they discussed how important archaeological areas in these places can be protected.
Speaking at the event, Walk of Truth founder Tasoula Hadjitofi expressed her concern over the ongoing destruction of cultural heritage around the world. Referring to Cyprus, she noted that even though 41 years have passed since the Turkish invasion, looting is still ongoing while many of the stolen artefacts from the occupied areas of Cyprus are missing and have not been included in any international catalogue or list for stolen artefacts, known as the Interpol list.
During her talk, Hadjitofi exhibited a photo of Turkish art smuggler Aydin Dikmen holding the original mosaic of Apostle Andrew, as well as another picture of Dikmen's former collaborator, Michel van Rijn, holding a fragment of another mosaic from the Kanakaria church.
"However, the art dealers are still at large and none of these artefacts are included in any international catalogue or list for stolen artefacts".
During the conference, Walk of Truth disseminated flyers with the mosaic of Apostle Andrew stamped with the word "missing." Volunteers from all around the world have already offered to help find the mosaic and combat art trafficking.
For his part, Maamoun Abdulkarim, Director of Antiquities of the Museum of Damascus, stressed that "although the dangers against the cultural heritage of Syria are increasing this will not diminish our will to stand against this destruction."
"The cultural heritage of Syria is a part of the worldwide heritage and the loss of a part of this heritage is a loss for humanity," he said.