Hurriet Daily News
22 September 2010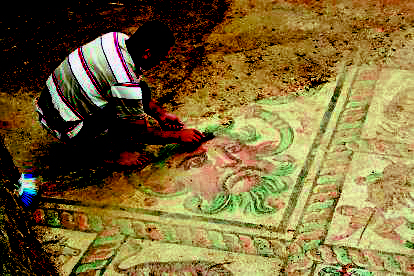 The discovery of a mosaic in a backyard in Turkey's Black Sea region has led to two years of excavations and the recent revelation that the area housed a third century Roman settlement.
Farmer Nizamettin Oral found a mosaic in 2008 while working on expanding a greenhouse in his backyard in a village in Zonguldak. After Oral found the mosaic two-and-a-half years ago an excavation was launched, leading to the discovery of a Roman villa that a museum director believes could be part of a larger Roman settlement, including a shrine.
"The mosaic found in 2008 depicts Thracian King Lykurgos attacking Ambrossia disguised as a woman, surrounded by vines representing divine drinks. The work this year found another room with plastered flooring and partially preserved frescoes on the walls," said Zonguldak Culture and Tourism Director Zekai Kasap, according to the Daily Radikal.
"North of this area, a water canal about 30 meters long with a mosaic floor linking to three rooms was found. The area has depictions of animal figures and hunting scenes."
Excavations conducted by the Eregli Museum Directorate over the past two summers found rooms belonging to a settlement. The rooms with mosaic and figurine flooring are believed to be part of a villa.
Eregli Museum Director Ahmet Merca, in a statement to the Anatolia news agency, said the excavations in the garden area containing the mosaics were complete for this season and that the work would continue next year.
"We think the recent findings might be part of a shrine," Mercan said. "We will excavate this area next year and find out."