Society of American Mosaic Artists Helps Celebrate MAPEI's 70th Anniversary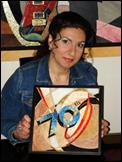 Mosaic Artist
Carole Choucair Oueijan
Deerfield Beach, Florida –
Twenty members of the Society of American Mosaic Artists (SAMA) recently worked together to produce a series of 12" x 12" (30 x 30 cm) glass tile murals celebrating MAPEI's 70th anniversary. Each mural depicts the individual artist's concept of MAPEI's 70th anniversary logo, which represents 70 years of technological leadership in the flooring installation business. In a collaborative combination of art and industry, the artists grouted their mosaic works with MAPEI's new Opticolor™ grout. When using Opticolor, the artists found that the murals were very easy to grout and clean up. "Opticolor will be an attractive option for mosaic artists," said Sheila Jewart, one of the artists involved in the project.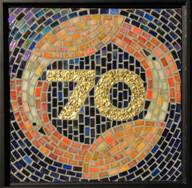 When asked for her feedback on Opticolor, mosaic artist Nancie Mills Pipgras said, "If I were commissioned to do a floor, wall, fireplace or backsplash, I'd use this grout in a nanosecond. It works well vertically." Pipgras also appreciates the fact that Opticolor doesn't need sealing. "This makes it an excellent choice for any location that is likely to get dirty – those pesky fireplaces and backsplashes in kitchens as well as shower mosaics," she said.

All fourteen new MAPEI grout colors were used in the various murals, where they even provided the theme to some of the works of art.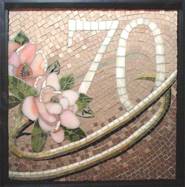 In conjunction with this project, which will be a lasting tribute to the company's 70th anniversary, MAPEI Corporation has contributed $3,500 to the Robin Brett Mosaic Scholarship for young artists wishing to pursue a career in this medium. "Because of MAPEI's support, more aspiring artists will have the opportunity to advance their careers through a meaningful education experience," Pipgras said.
About the Society of American Mosaic Artists (SAMA)
SAMA is a nonprofit membership organization dedicated to the promotion of mosaic art and the advancement of mosaic artists through research, education and networking. Founded in 1999, it is the only professional mosaic art association in the United States. SAMA's membership includes more than 900 mosaic artists, enthusiasts, suppliers and educators from around the world. To learn more about contemporary mosaic art and SAMA, visit www.americanmosaics.org.www.americanmosaics.org.
About MAPEI
MAPEI has been supplying systems for tile and stone installation, floor-covering installation, decorative concrete and concrete restoration for 70 years. With more than 40,000 customers worldwide and 46 associated manufacturing plants operating in 23 countries, MAPEI is a single-source supplier of flooring installation systems for residential and commercial projects. MAPEI is a registered provider to the AIA/CES program and also offers training related to ceramic and stone tile, floor coverings and concrete repair through the MAPEI Technical Institute. MAPEI is an environmentally conscious manufacturer. Visit our Website at www.mapei.com for technical data or call 1-800-42-MAPEI (1-800-426-2734) for the nearest location.