Lilli Ann Rosenberg, muralist, sculptor, dies aged 86

August 12, 2011
by Gloria Negri, Boston Globe Staff
boston.com
When it comes to the public arts projects that Lilli Ann Killen Rosenberg created throughout the USA as muralist, sculptor, and potter, the 12-ton, 110-foot-long cement mosaic in the Park Street subway station she made in 1978, depicting the history of the Boston subway system, is considered among her most memorable.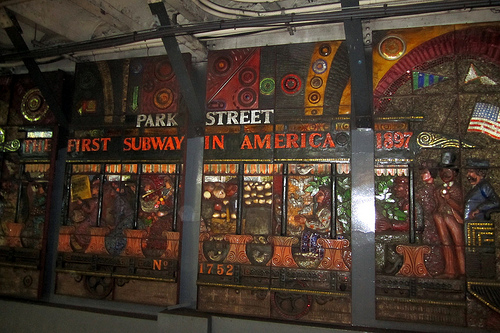 In researching the first American subway system, which began in 1897, Mrs. Rosenberg wrote in a self-profile, "I rode every subway line and became acquainted with motormen and mechanics. All these experiences went into this work - a mural to celebrate the underground and engage the passersby in a captivating experience during their wait below ground.''

Though Mrs. Rosenberg and her husband, Marvin, moved from Massachusetts to Oregon 21 years ago, her artwork in Massachusetts will remain monuments to her life. Her family said she was beginning another project when she died of cancer at her home in Ashland, Ore., on July 19. She was 86, three days shy of another birthday.
She was a strong believer in public art, friends and family said, and public participation in it. Years ago, as art director for 17 years at the Henry Street Settlement House in New York City's Lower East Side, she made certain to draw young people who were potential troublemakers into her program. She knew they would protect the work against vandals.
On its website the settlement house says that in 1967 Mrs. Rosenberg "collaborated with the New York City Housing Authority to design a welcoming and unique play sculpture garden'', and invited the community's children to design and build the project, which included a sprinkler fountain, whimsical animal sculptures, and seating areas.
Often she considered children the audience for her art, and loved to show them how it was done in libraries and playgrounds, said Dana Buck of Plainville, who worked with her as studio assistant, including on a mural Mrs. Rosenberg was commissioned to do for The Children's Hospital of Philadelphia. "The theme of that was the four seasons,'' Buck said. "There is always a theme of nature in Lilli Ann's work and always whimsical. Her colors were bright and beautiful, as was she.''
Her technique, according to her website, was "to embed a variety of materials in concrete using color and texture, sometimes carving it into the concrete or casting with it.''
Mrs. Rosenberg's work in the Boston area was prolific. Her mosaic work on the TADpole Playground on Boston Common has elements of nature and animal life and is a child-charmer.
At Langley Road and Centre Street in Newton Centre is another public sculpture that Mrs. Rosenberg and her husband created, where 300 residents imbedded pieces of ceramic tile, recalling events in city history.