Archaeologists in Syria discover Byzantine mosaic
by Sean McLachlan (RSS feed)
Source: www.gadling.com
May 15th 2011
An archaeology team has discovered a Byzantine mosaic in a medieval church.
The mosaic was discovered last week at the Deir Sounbol Church on al-Zawieh Mountain. Syrian investigators say the mosaic measures 4x5 meters (13x16 ft.). While portions are damaged or missing, floral and geometric shapes are clearly visible and there are inscriptions in Greek. These are prayers that include the names of the owner of the church and the person who supervised the creation of the mosaic.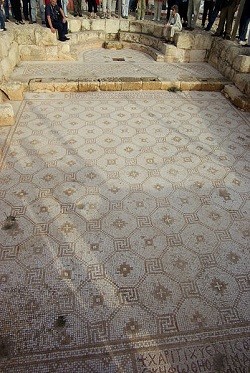 The Byzantine Empire was the eastern half of the Roman Empire. Long after the Western Empire collapsed, the Byzantines continued Roman culture with a distinctive Greek flair. Syria was Byzantine territory and was the battlefront in the Empire's gruelling war with Persia.
The war weakened both sides so much that they were easy pickings when the followers of Mohammed burst out of the Arabian Peninsula in the 7th century. Persia quickly fell, but Byzantium held on, shrinking gradually until the end came in 1453. In that year the capital Constantinople, modern Istanbul, fell to the Ottoman Turks.
One of Byzantium's greatest achievements were its sumptuous mosaics. Made of little colored tiles called tesserae, they depict elaborate scenes and some have tesserae made of gold. This picture, courtesy of Berthold Werner, shows a mosaic floor in Jerash, Jordan. It's interesting in that it contains swastikas, a symbol of peace and harmony for centuries before the Nazis twisted its meaning.
I love the fact that Syrian archaeologists are continuing to dig despite the chaos and repression currently going on in their country. These guys obviously love their work and won't let anything stop them from doing what they feel is important. It reminds me of a literary journal that was published in Beirut during Lebanon's civil war. The offices were right next to the no-man's land between two factions, and yet they still managed to publish literature on a regular basis. The name of the journal escapes me. Any Lebanese out there remember it?