Art Brings Hope to Depressed D.C. Neighborhood

Streets in forgotten Washington DC quarter are beginning to sparkle as artists honor over 200 residents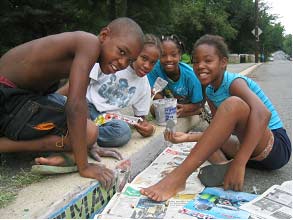 Washington, D.C. – September 15, 2004 – An ambitious heritage art project provides low-income neighborhoods with a local version of Hollywood's Walk of Fame. Community pride has bloomed through this collaborative effort, involving D.C. artists and neighborhood residents of all ages (from 3 to 72). A core team of 10 artists has already taught over 135 D.C. residents 5 mosaic arts: Granite, Glass and Mirror, Ceramic Molds, Ceramic and Porcelain Tile, and Recycled Materials (car keys, CDs, seashells, plates, etc.).
535 feet of street curbs in NE D.C. are being decorated with stars and names of local heroes – including famous residents such as Byron Leftwich (Jacksonville Jaguars) and everyday residents such as Nakia, Diamond and Moe. A new youth café and Marvin Gaye Park are also being decked out with mosaic trees, rivers, people and musical notes.
Sponsored solely through a $4,000 DC Commission on Arts and Humanities grant, the group has arranged $15,100 in material donations by individuals. Craig Duckworth of Arc Stone II donated granite from over 28 countries (such as Russia, Zimbabwe, Brazil), while OEC Engineering provided 126 water-jet-cut stainless-steel stars. Fused-glass pieces were also given by artists from MD, VA, DC and NY.
"It is thrilling to be using such high-quality materials," says founder Jenny Carden. "Mosaics originated in Iraq and Egypt and have always been considered an opulent art form. Part of the idea is to be as decadent and beautiful as possible on a very limited budget."

The group prides itself on creating an alternative to traditional town-square statues of historical figures riding horses. "It's not just the heroes on TV who accomplish heroic things. The project is about realizing what a colossal impact the people around you can have in your life on a daily basis," says Carden.
"Public art is a gift of love – for the community, by the community," explains Carden. "And when you honor everyday people in public art, you get a different level of excitement and participation." After waiting three weeks to install his name, resident Wendell Kinney beams, "I'm going to show my grandchildren that your name doesn't have to only go up after you're murdered."

Final Celebration 3pm September 18th, 2004.
Photos: http://www.artontheblock.net/photos.html
For information: http://www.artontheblock.net