EXTRAVAGANZA!
The food is packed and the drinks are ready, then "Have you got your wellies? Where are the umbrellas? Do we need raincoats? What's the weather forecast?"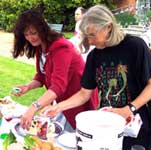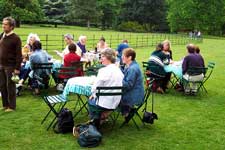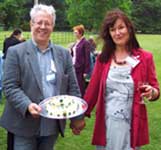 Thus starts the normal prelude to a summer picnic in the British Isles. But not so for the B.A.M.M. picnic, held at Osterley Park House on Sunday 8th June 2003.
To celebrate the opening of the British Association for Modern Mosaic's third major exhibition it was decided that all exhibiting artists and their families would be invited to a lunchtime picnic in the grounds of this Robert Adams designed stately house. Everyone who came brought along a little food and some drink to add to the feast. All this was organized into a mouthwatering display by Carolyn King. BAMM's Chairman Paul Bentley produced a mousse to pile on the calories and asked President Elaine M Goodwin if she would mosaic it, using glacé fruits. Elaine agreed to but refused to use the red ones as "it looked too Moroccan". Then the shout everyone was waiting for, "Grubs up!" People helped themselves to lunch and broke up into smaller groups to talk about coming events or where they might be going on holiday this year. Some even tried a bit of football.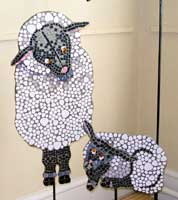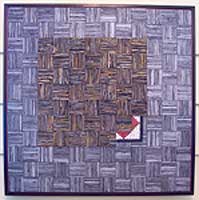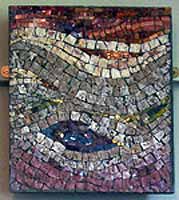 After everyone had eaten heartily Elaine M Goodwin, stepped forward to welcome everyone and thank them all for their efforts. Special thanks went to Linda Tait who helped organize the exhibition and Janet Bowen who led the publicity team. Elaine explained the great thing about the EXTRAVAGANZA exhibition was that you could see mosaic pieces produced by the absolute beginner right up to the professional artist. And most of the time you really could not tell which was which. Paul Bentley, for ever the actor in front of an audience, gave a rousing speech about how he got into mosaics via Wagner, King Ludwig and Byzantium, and how mosaic art had started when two Sumerian peasants thought about sticking small clay cones onto a pillar to make it look pretty. Oh how mosaics have come on since then.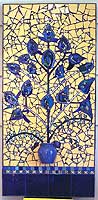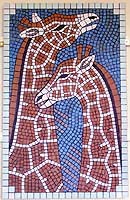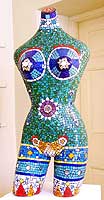 There appeared to be a very strong interest from the public visiting Osterley House, with a very mixed age group coming in. Indeed, I think the organizers underestimated the number that would turn up as they ran out of information leaflets towards the end of the day. It was estimated that over 300 people had come in to see the exhibition in the three and a half hours that the gallery was open to the public.
Photography was not allowed but BAMM is producing a CD with pictures of all the exhibits. This will be available September and should cost about £10. You can pre-order your copy from The BAMM website at www.bamm.org.uk . The exhibition runs until the 29th June, and if you can find the time you should pay it a visit.
BAMMs aims are:
... to promote, encourage and support excellence in contemporary mosaic art
... to raise public awareness of modern mosaic art and of the artists creating it


BAMM membership is open to all who are interested in modern mosaic art. Overseas members are welcome to join them.

Exhibitions are planned on a 3 year cycle :
Cutting Edge - innovative, stimulating - Selective/ UK members
Design - decorative mosaic for interiors and exteriors - Selective/ UK members
Open - any media celebrating contemporary mosaic - Open to all BAMM members

BAMM organises a series of site visits and events throughout the year.
BAMM produces a newsletter, GROUT, three times a year.
BAMM organises and arranges talks and workshops, and supports other exhibitions.