Picking up the pieces: Archaeologists unearth 2,000-year-old mosaic depicting the Greek god Apollo surrounded by muses

by Daily Mail Reporter & AP
30th July 2011
A 2,000-year-old mosaic in Rome depicting the Greek god Apollo has been unearthed by archaeologists near the Colosseum.
Excavations in the bowels of an ancient Roman hill have turned up the well-preserved, late 1st century wall mosaic with a figure of Apollo, nude except for a colourful mantle over a shoulder and surrounded by muses.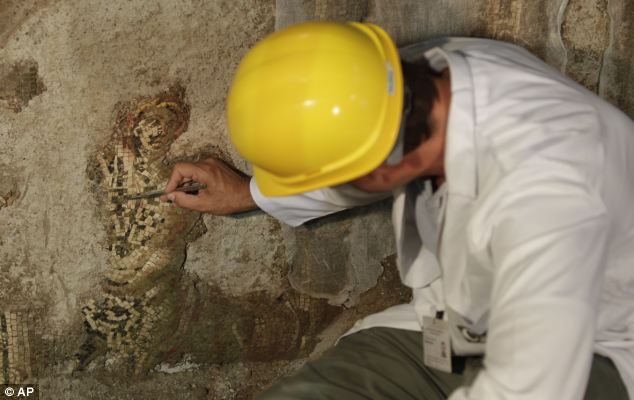 The mosaic-covered wall is 16 meters (53 feet) wide and at least 2 meters (6.6 feet) high. Officials think the wall continues down some 8 meters (26.5 feet) more.
Archaeologists say the wall appears to be in a tunnel built to help support Trajan's Baths, named for the emperor who ruled from 98 till 117. The mosaic apparently embellished a room where wealthy Romans gathered to hear music and discuss art.
The parts of the mosaic uncovered so far are made with various shades of bronze-coloured tesserae and were found shortly after a number of unique frescoes were unearthed in the same cellar space.

Archaeologists are hoping there are more mosaics to be uncovered and have said they need an extra 680,000 euros to finish the excavation.

Son of Zeus and Leto, Apollo was the god of light and the sun, truth and prophecy, medicine, healing, plague, music, poetry, arts and more. He was an illigitimate child - Zeus was married to Hera - and his mother was banished to an island to give birth alone.
Apollo later fought in the Trojan war where he shot arrows infected with the plague into the Greek encampment and was responsible for the death of Achilles by firing an arrow into his heels.
He had both male and female lovers and was father to many children.