New mosaic of St. David blessed by the Pope
Source: Independent Catholic News
September 2010

A new mosaic of St David, patron saint of Wales, designed by artist Ifor Davies, was blessed by Pope Benedict XVI when he celebrated Mass at Westminster Cathedral on Saturday 18 September.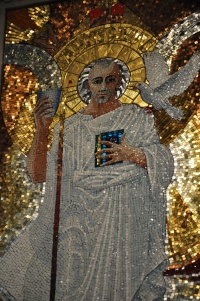 Welsh artist Davies said: "I have been painting all my life and this is one of the most exciting commissions and very close to my heart. I have always been interested in Welsh history and so have done lots of research around St David and the early church in Wales.
"To start with I made a drawing, about the same size of as the mosaic, on very thick paper, and painted the image. Together with Tessa Hunkin from Mosaic Workshop we traced the original image in order to be able to put it into a mosaic format.
"St David is depicted as standing on a mound; the myth states that he was preaching to a crowd and in order for them to be able to hear him better the ground rose underneath him. The bit of stone at the bottom of the mosaic is from Llanddewi Bref, the spot where the miracle is said to have happened. There are also lots of other references to stories associated with St David; the water coming from his cup represents the fact that he drank only water for example."
The mosaic was an important part of the Cathedral's preparations for the visit of Pope Benedict XVI. Cathedral Administrator Canon Christopher Tuckwell said: "I am delighted with the mosaic. When I first saw the drawing I could see that there was something new, fresh and alive about it".
Tessa Hunkin from Mosaic Workshop, who made the mosaic using Davies' painting, said: "It has been a great piece to work on, but a bit more difficult than other mosaics because there is so much gold and you have to use a slightly different technique when working with gold, to ensure that it shimmers".
At the end of the Mass on 18 September the Pope blessed the mosaic with water from St Nonn's well in Wales. St Nonn was the mother of St David. He then addressed the people of Wales before concluding the Mass in Westminster Cathedral.
**********************
In Westminster Cathedral's Oremus magazine (October 2010) Patrick Rogers tell us that Tessa Hunkin made the mosaic direct onto nylon mesh, tilting the gold and silver to get a glittering effect. Killian Schurmann made the haloes of larger pieces of glass and gold leaf in his Dublin studio. The mesh was cut into segments and fixed onto the wall by Walter Bernardin, using a ceramic tile adhesive with a polymer additive to improve cohesion.

SEE ALSO WHAT GERMAINE GREER IN THE GUARDIAN THOUGHT OF THE MOSAIC
click here
AND WHAT OLIVER BUDD, PRESIDENT OF BAMM, THOUGHT... click here